Team building activities are awesome! They are a fun way to break up the normal monotonous workday, work meeting, family gathering, etc. with something different.
Whether you need an idea for that next team building exercise, or you have a family reunion coming up and you want to unite family members with fun activities, or maybe you need something for a church group. Whatever the case may be, I have 3 fun team building activities that are engaging and make you think and work together.
I generally like to make it some sort of competition and the winning team usually will win some sort of a prize. So there's definitely some kind of motivation to work together nicely and create something cool. Although the main goal could just be to create a more harmonious group or team.
Each one of these activities has a food element, but, they don't require a kitchen, oven, microwave, etc. So they are easy to do at work or other places. This series of team building activities falls in a category I call, "Let's Build It!". It kind of sounds like a game show, huh? Join with me and together let's build it!
Activity 1: Towers with Marshmallows and Spaghetti
Things you will need:
The first time I did this team building activity, it was with my family for my parents' 50th wedding anniversary. My oldest brother, Mark, walked us through it.
It is a fairly common team building activity. The goal is to build towers out of marshmallows, and dry spaghetti.
The idea is you would buy each team a package of marshmallows and give them a handful of spaghetti. Then you need a work area for each team, like a round table, folding table, card table, etc. It could be done at home at a kitchen table. Or it can be done in an office or like a conference room or something like that.
Give each team a time limit, 20 to 30 minutes. Then have them build something. I always like to do towers and the tallest tower wins. Or you have them try to build something else. Once the time is up, they are done. Have judges or just measure the tallest tower and then give out the prizes.
You could also work in some kind of analogy. Like starting with a strong foundation first and then building up from there. Which is kind of like in life with families or with businesses or in church groups.
You want to start with a good foundation first.
Activity 2: Building Towers with Graham Crackers
Things you will need:
Graham crackers
Frosting
Extras like, cake spatulas, plastic knives, cake boards, decorations, etc.
The second team building activity is along the same lines,g building towers or tall structures with frosting and graham crackers. The last time I did this, it was around Christmas time. So we had a Christmas theme. Instead of building classic little gingerbread houses, we did gingerbread towers. And tried to build them as tall as we could.
If you wanted to you could have two categories. Tallest graham cracker tower, and best overall design, or something like that.
Divide everyone up into teams with 3 to 4 people in a team. Have a container of frosting and a box of graham crackers for each group. Then have a main table with extra items on it.
You could number off the teams and then do some sort of a lottery and whatever team's number is drawn they pick one additional item off that table. The item could be another box of graham crackers, or extra frosting, or a cake spatula, piping bags with tips, etc.
Then once the items are chosen, you could do the lottery again, to pick more items, etc. Now, set them loose to build it. 1 hour is a pretty good time allotment.
You may want to provide them with cake boards or something that they can build on. Maybe make some rule that they have to be able to move it over to a "display" table. So they should keep that in mind while building.
Team Building Activity 3: Build towers with gumdrops and toothpicks
Things you will need:
Spice drops/gumdrops
Toothpicks
That brings us to the third and final team building activity that I have for you. And again, it's along the same lines as the other two. But this time it is building towers or structures using only spice drops or gumdrops and toothpicks.
Different building materials lend themselves to different structures. The main goal again is to try and build the tallest tower or structure using only those two provided ingredients/tools.
Of you can have a couple categories. One for the tallest and one for the most creative, or something like that.
This activity along with the other ones is super inexpensive to put together and won't break the budget even for a large number of people. The bag of spice drops cost one dollar at Wal-Mart, and the toothpicks cost 69 cents at my grocery store.
Once you have the teams divided up and the materials handed out. Start the timer and let them work. It is up to you how much time you give them. 30 minutes is a pretty good amount of time for this team building activity.
Also, one thing I want to mention, it's up to you if you let them know ahead of time what they're building materials will be. I always like to keep the activity a secret, so people can't research online on how to build the best thing with those materials, haha.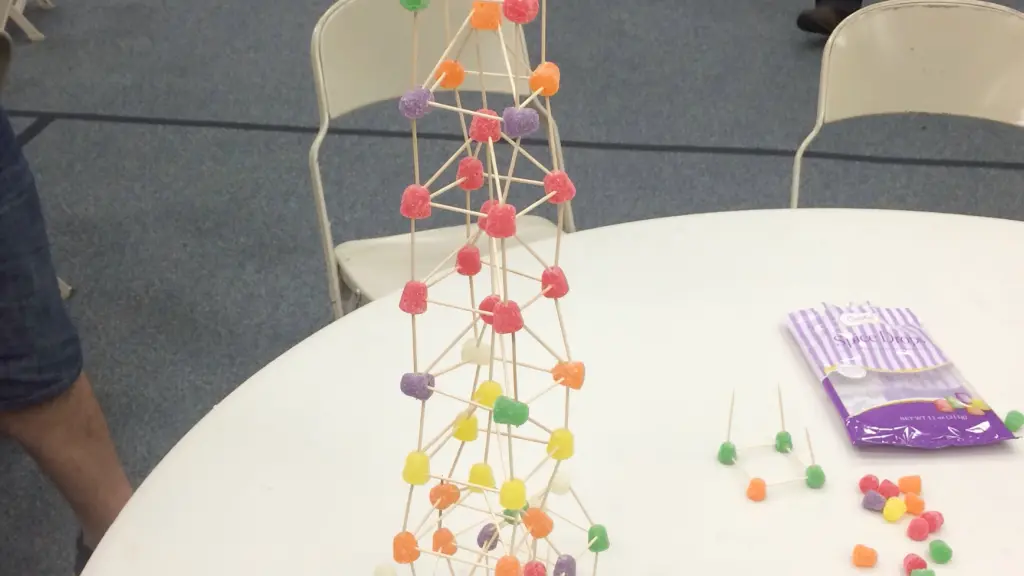 Keeping it a secret also adds a bit of mystery, especially if you're doing it as an ongoing activity or series of team building activities.
So there you have it, my three top team building activities with food. There's plenty of other team building activities out there.
I think the ultimate team building activity would be cooking some kind of recipe together. But you can't always do that in your organization where you're at, but you certainly can do that as a family. Have fun and enjoy!
Top 3 Team Building Activities with Food Video
Now watch the video where I talk about these team building activities.
Here are some recipes and other interesting posts you may like:
Date Caramel Healthy Caramel Substitute
Brod and Taylor Proofer Review
First Year Blogging Income Report