Jump to Recipe
There are a few tricks to getting the perfect homemade thin crispy potato chips or "crisps" as they are known in other parts of the world. Hopefully, after following this step-by-step guide you will be making yummy chips in no time.
Potato chips are one of those ultimate comfort food snacks. Did you know the potato chip is America's number one snack? According to this article Americans consume over 6 pounds of potato chips per person in a year!
I for one do my fair share of eating them, both the storebought kind and the homemade kind. I love chips! They are easy to make if I can do it, you can do it. Let's get started!
For more yummy snack recipes click here.
Check out my Thin Crispy Potato Chips video I made!
Step 1: Gather the tools and the ingredients
First, in order to make these awesome thin crispy potato chips we need a handful of ingredients and tools, all very common, chances are you already have them in your house. You will need:
Potatoes – Of course, the start of the dish is potatoes. I love using Russet potatoes but you can use a variety of potatoes. Make sure to wash first and peel them if you like.
Cold water – this is important because we need to soak the potatoes.
Salt
Distilled white vinegar – don't worry this won't give the chips a vinegar taste.
Water – for parboiling the potato slices
Oil for frying – I generally use canola oil or peanut oil, but vegetable oil, shortening, coconut oil, etc are all good oils to use.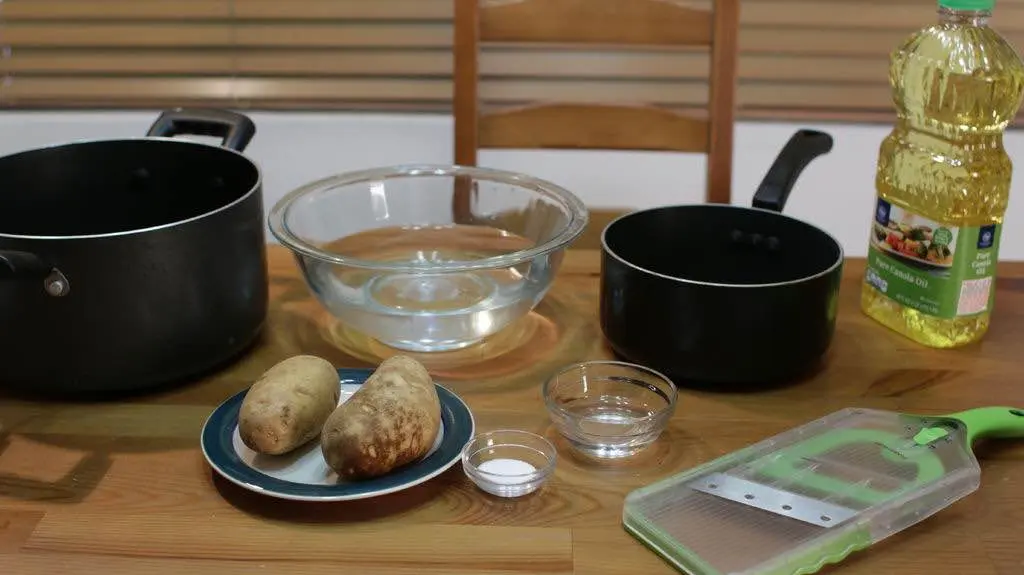 Tools
For the tools you will need:
Mandolin Slicer: The mandolin slicer is my favorite tool for making thin chips. They all come out the same size. You can certainly use your chef knife though if you like. I use my slice all the time so I am happy I have it. Having a nice thin-sliced potato is key to getting a crispy chip.
Candy Thermometer: You will want some sort of thermometer in order to reach the correct temperature with the oil. This is one of those important steps.
Pots
Bowls
Paper Towel/Kitchen paper
Spider Strainer or Tongs
Plate
Step 2: How to make thin crispy potato chips
Take some cold water and add 2 tsp. of salt to it, make sure to stir it around to dissolve the salt, creating a nice brine solution.
Step 3: Slice and soak
Now take some potatoes (peel them if you wish), I generally use russets, that have been washed, and using a mandolin slicer, slice the potatoes. We want them about 1/8th of an inch thick.
Put all of the potato slices in the bowl of the cold brine solution. Then let the potatoes soak for 15 to 20 minutes, this process will remove a lot of the starch from the potatoes.
The starch is what burns when frying the potatoes. Also, this will help them get nice and crispy, the more starch removed the better.
Step 4: Boil the potato slices
Next add 2 Tablespoons of distilled white vinegar to a large stew pot or dutch oven, which has been filled halfway with water. Don't worry this will not give the chips a vinegar taste. The vinegar will help to remove the starch.
Bring the water to a boil, and then add your potato slices, about half of them for each stage. Boil the potato slices for 3 to 4 minutes, stirring them occasionally with a spoon, then remove them and place them on a paper towel-lined baking sheet, to dry for about 5 minutes.
Do this with all of your potato slices. Each large potato sliced will need to be its own batch. It is very very important to get them dry. Water and hot oil don't play nicely together.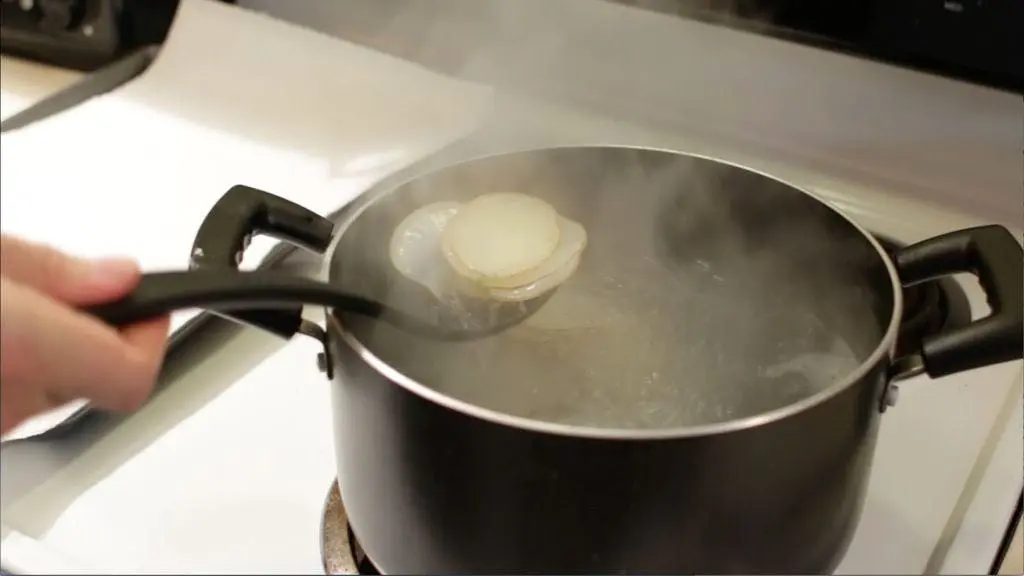 Step 5: Heat oil and fry the thin crispy potato chips
Next, empty out hot water from the pot, make sure it is dry, then add the canola, peanut oil, vegetable, or coconut oil we want it to be about 1 to 1.5 inches deep.
I usually wind up using around 48 ounces of oil when making thin crispy potato chips. Now set the stovetop burner to medium to medium-high and heat the oil to 325 degrees F. (162 C)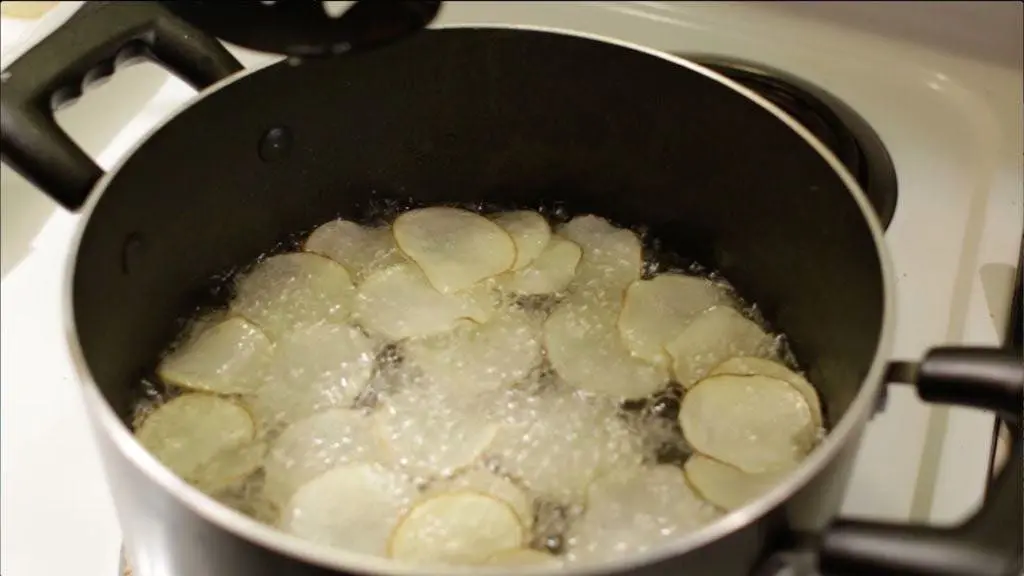 Next, drop in about a third of your potato slices, don't let them get too crowded. Stir them occasionally, and fry them for 5 to 15 minutes.
What you will notice is eventually all the bubbling will subside, and the potatoes will get a nice blonde to golden brown color, this is how you know they are done.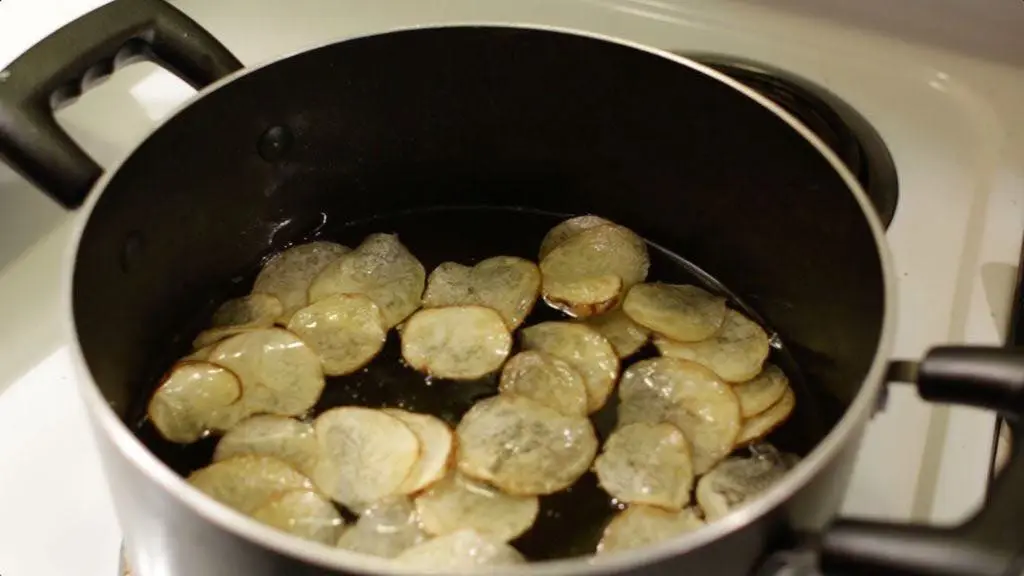 Remove the thin crispy potato chips from the oil and place them on a paper towel-lined plate to dry. You may need to dab the tops of them with a paper towel to get excess oil off.
Then season with salt or any of your favorite seasonings. Now enjoy those homemade crispy crunchy potato chips! 🙂
*These do take a fair amount of time to make, but they are so worth it!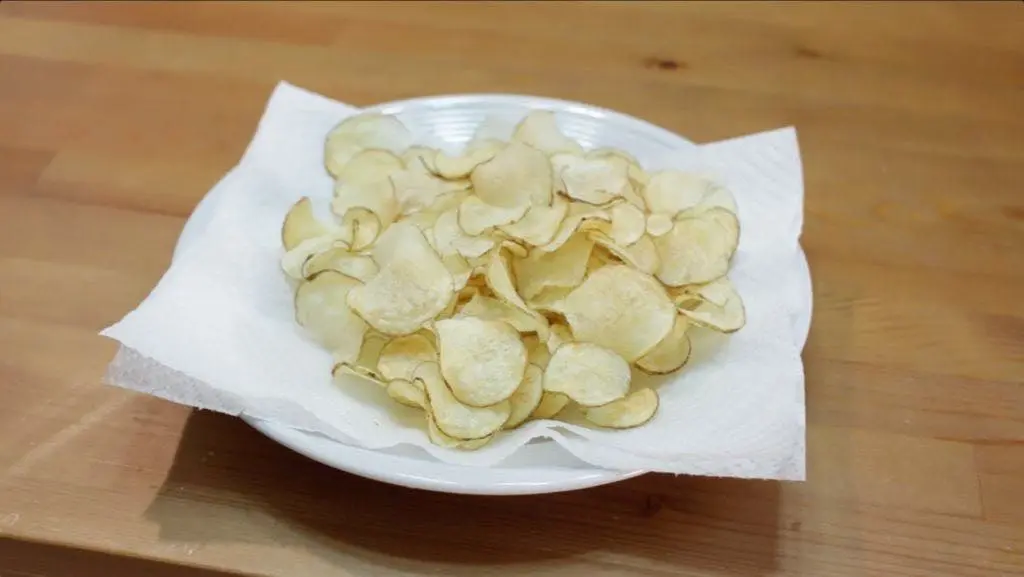 How long do the homemade thin crispy potato chips last?
In my house not that long, haha. You can store them in an airtight container or ziplock back for a few weeks. After a full week of sitting in a ziplock bag, they should be just as crunchy.
Maybe you are looking for a more healthy snack? Check out this homemade granola recipe.
Thin Crispy Potato Chips
Homemade thin crispy potato chips are one of my favorite snacks to eat, right up there with popcorn! This recipe will give you an amazingly crunchy, not burned, potato chip that is sure to impress the chip lovers in your family.
Equipment
Mandolin Slicer

Candy Thermometer

Pots

Bowls

Paper Towel/Kitchen Paper

Slotted Spoon

Spider Strainer

Plate or baking sheet
Ingredients
2

Potatoes, about half a potato per person

I use Russets, washed and peeled if you like

Cold water

for soaking

2

tsp.

salt

10 g

2

Tbsp.

distilled white vinegar

30 ml

Water

for boiling

Oil for frying

48 ounces (I use canola oil, peanut oil, vegetable, or coconut oil)
Instructions
Add cold water to a large bowl and add in the salt creating the brine solution.

Wash and peel the potatoes. Then slice them very thin (1/8th inch) using a mandolin slicer or a knife. Place the slices into the cold water and let soak for 15 to 20 minutes. This will remove the starch.

Take a large pot filled with half way with water and boil it along with the distilled white vinegar. Next boil the potato slices in stages a few batches at a time for 3 to 4 minutes. Stir the slices occasionally. After one batch is done remove the slices and place on a paper towel lined tray to dry.

Heat a pot of oil, roughly 48 ounces worth, to 325 F (162 C).

Once the oil is heated drop in batches of dried potato slices into the hot oil. Don't over crowd them. Let them boil for 6 to 10 minutes until the bubbles subside and the potato slices get a nice blonde color, slightly brown. Getting the starch out helps keep the chips blonde and not dark brown. The sugars in the starch tend to burn easily in hot oil causing that dark browning. Use a spider strainer or tongs and remove the chips and place on a paper towel lined plate. Season them how you like. Enjoy!

Store in an airtight container or ziplock back for up to 2 weeks, although I am guessing they don't last very long. You can reuse the oil to make more chips.
Video
How to Make Thin Crispy Potato Chips | Easy Homemade Potato Chip Recipe
Notes
Nutrition
Do you like the recipe? Please give it a rating and comment down below, I really appreciate it. If you make it tag me on Instagram @inthekitchenwithmatt. Also, sign up for the newsletter so you won't miss out on any of my new posts and recipes.
Here are a few more recipes you may like:
Fall of the Bone Instant Pot Baby Back Ribs
Homemade Tortilla Chips 2 Ways