Do you have pets? If so and if they are cats or dogs, chances are you have pet hair/fur all over the place. Maybe it is on your carpet, on your couches or chairs, etc. Currently, I have 4 cats living with me. They are not my cats, I am taking care of them, while my brother and his family move from Atlanta to Phoenix. The cats were shipped out to me in March and have messing up the place ever since then, haha. So much cat fur everywhere. Lately, I have been seeing all kinds of reviews on Facebook for a tool called uproot clean. They made cleaning up pet fur look like magic with their tool.
So I decided to give the uproot clean pet hair removal tool a shot and see how well it really works and if it indeed works as well as in the videos.
This is NOT a sponsored video. They are not paying me for this review nor did they send me an uproot cleaner tool for free. I bought it on Amazon. It wasn't too expensive, around $20. For me, it was worth trying even if it works half as well as the videos show.
Let's get onto the uproot clean review!
Uproot Clean packaging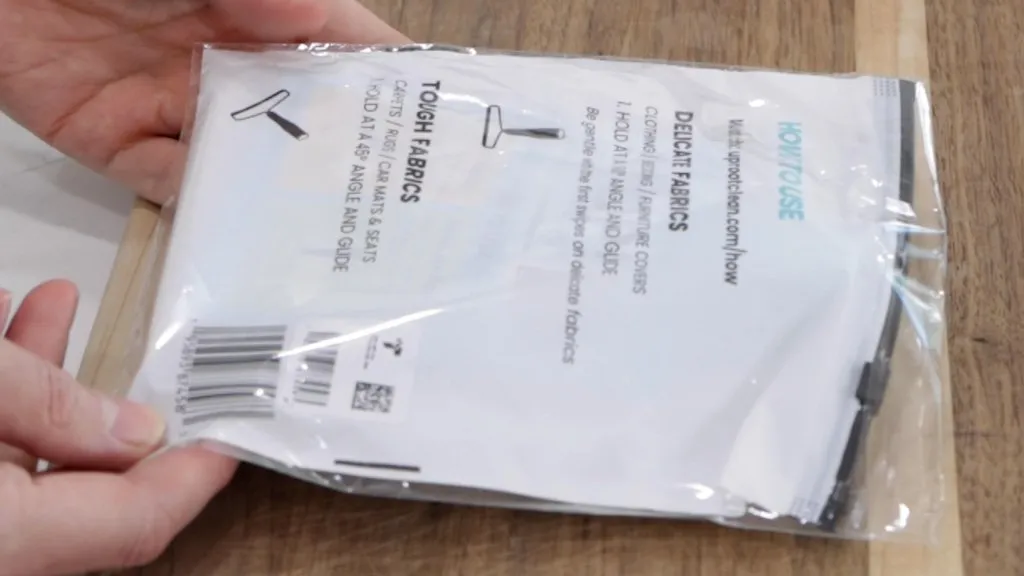 At first glance, I liked how the tool was packaged. Now for me, I don't really judge a tool by how it is packaged, but extra brownie points to them, because it was packaged well.
It comes in a plastic bag that covers a printed bag. Inside the sealable bag, you will find the tool as well as instructions.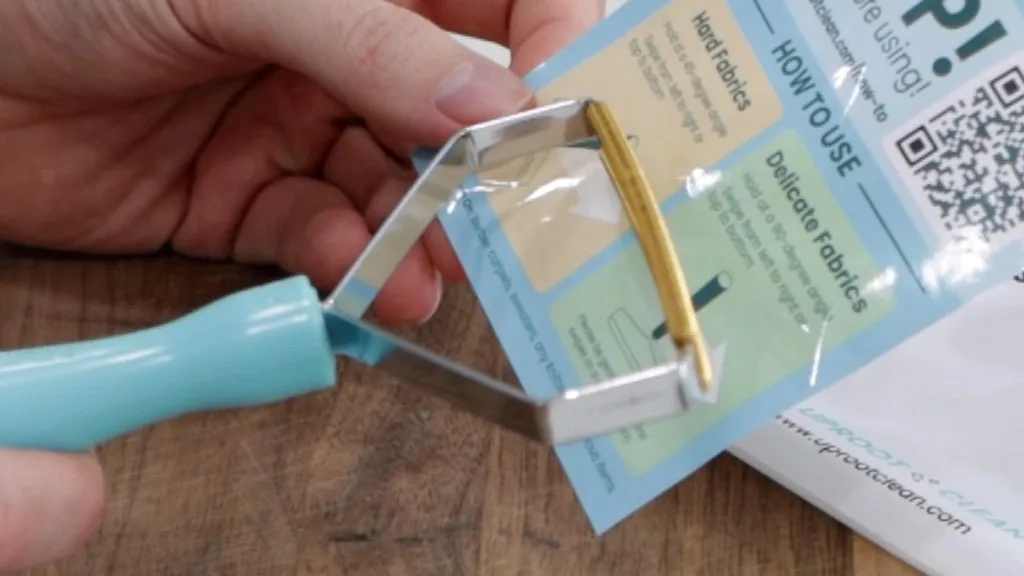 The instructions tell you to use it at a 45-degree angle on hard fabrics like canvas and carpet and a 90-degree angle on more delicate fabrics like clothes.
You are supposed to use a firm grip and gliding motion across the fabric. Now to test it out. Does the uproot clean tool actually perform like in the Facebook videos? Let's find out.
Does the uproot clean pet hair removal tool actually work?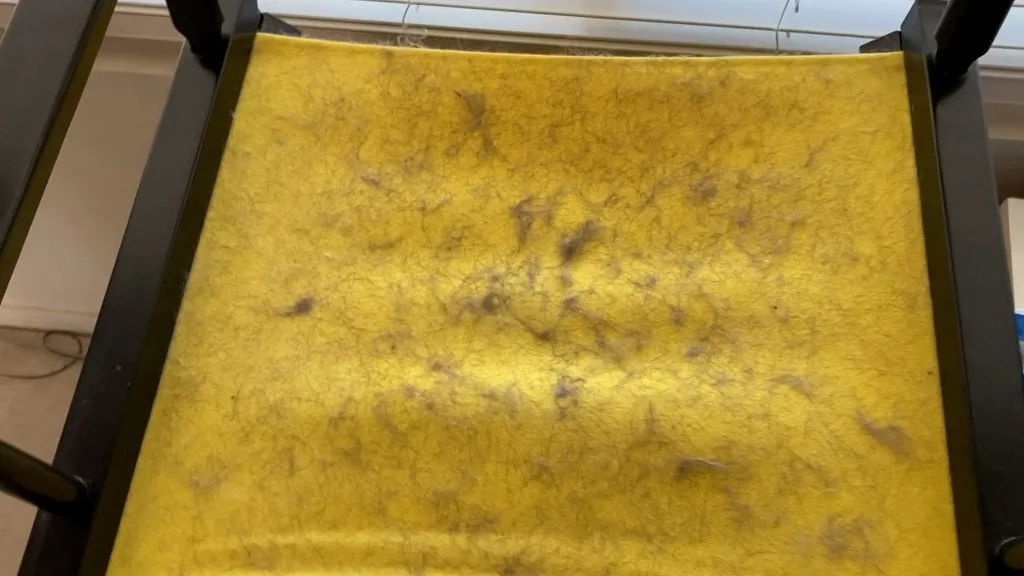 My first test would be my canvas director's chair. I have had this chair for quite some time. The cats like to sit on it and look out the window and nap.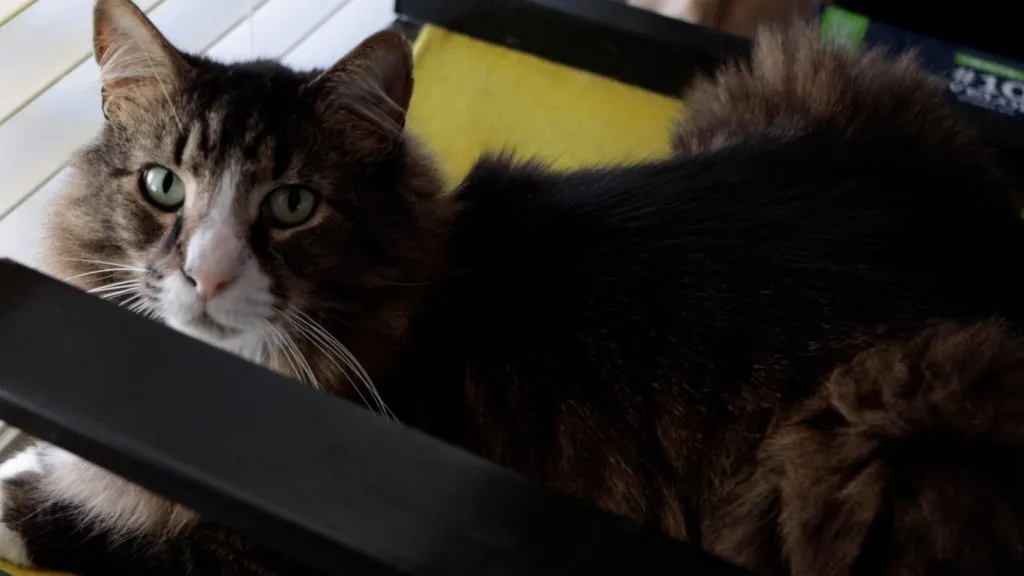 Above is a picture of Calvin the part Main Coone kitty. He has really long fur that gets everywhere. He loves to sit on the director's chair and see what is going on outside. Normally he is an indoor/outdoor cat, but I can't let him outside. Maybe when he gets to his new permanent home my brother will let him outside.
Especially now with the temperature changing and getting hot, these cats are shedding a ton. Needless to say there is lots of pet fur on that chair.
This was my first fabric to use this tool on. And I will say it works pretty well on canvas. I don't think it works like magic as they show in the marketing videos for it. But it did a great job getting most of the fur off. After if I took some tape like packing tape I could pull off the rest pretty quickly.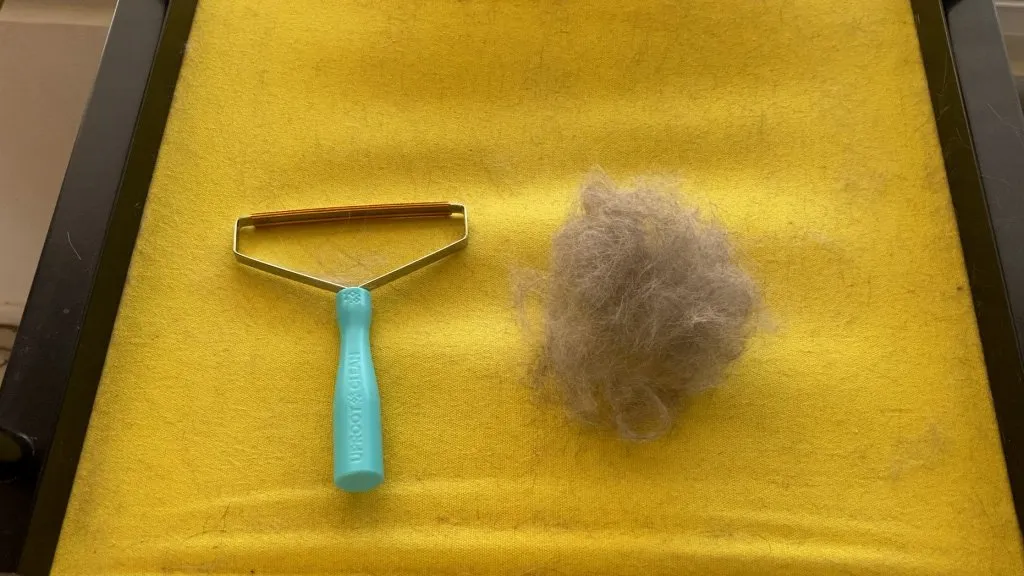 After cleaning what I could the before and after definitely have a stark contrast. The uproot clean tool does indeed work pretty well on Canvas. I also have a very old Ikea couch that has a canvas-style fabric that the kitties also like to nap on. The tool worked well on that too.
Does the uproot clean tool work well on delicate fabric like clothes?
Calvin the kitty's favorite chair to sit on is this kitchen chair with a fabric-covered cushion. The cat fur sticks pretty well to this material. The fabric is more delicate than canvas so I decided to use the 90-degree angle approach.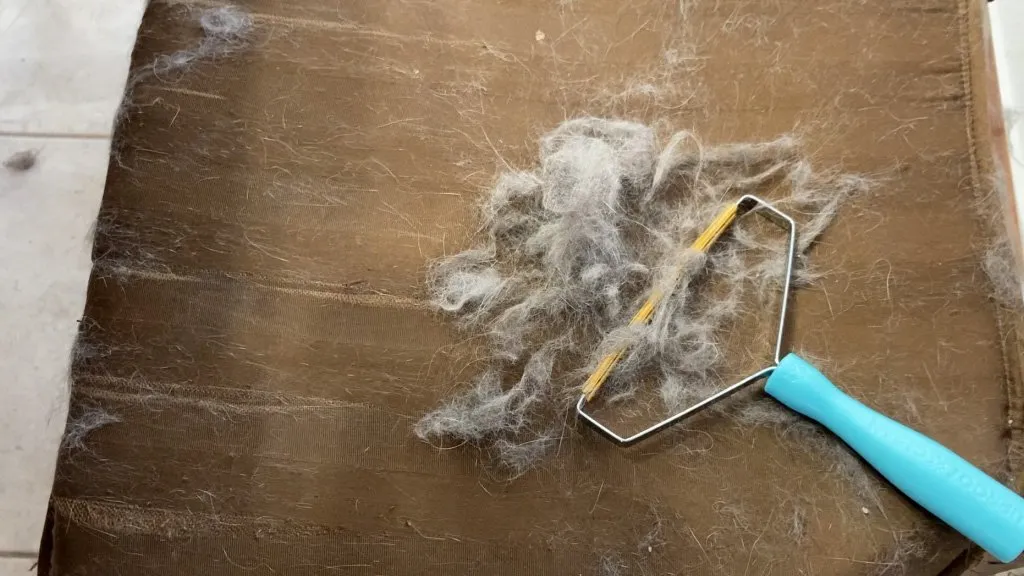 While the tool did work, it didn't work nearly as well as it did on the canvas chair. After cleaning the cushion the best that I could, I still wouldn't want to sit on the cushion, nor do I think anyone else would. I would definitely need to do more cleaning, like using tape or a strong vacuum to get the rest up. Or just buy a new cushion. Which is what I will probably wind up doing, haha.
I tried it on my clothes, and it didn't work very well on my t-shirt. I think I will just stick to using packing tape on my clothes.
Does uproot clean work on the carpet?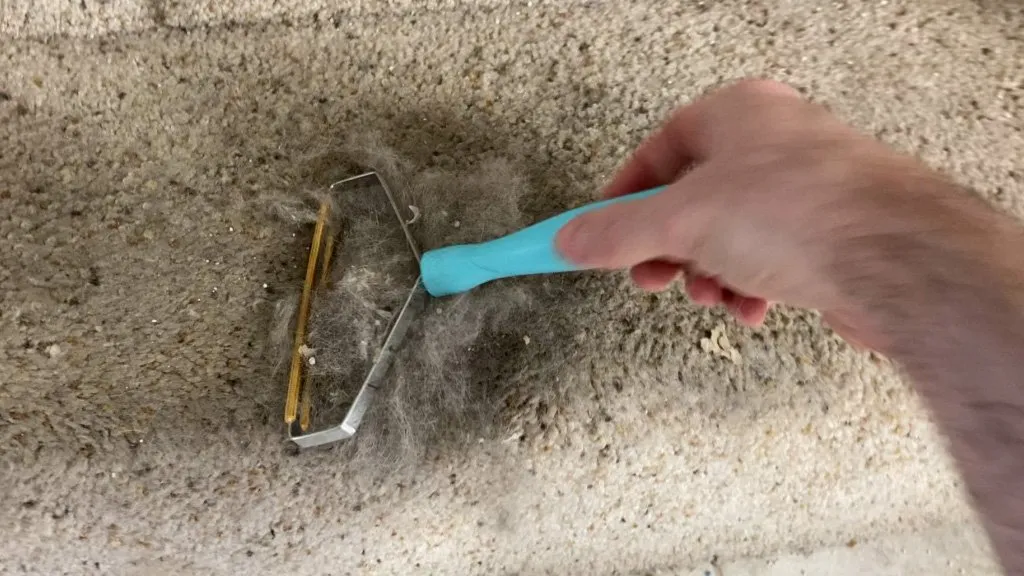 My main reason for wanting to try this tool out was to see how well it did on the carpet. My vacuum cleaner isn't the best, so thought this could help.
I tried it on the steps and it definitely worked pretty well scraping up the carpet even the fur that was pressed down into the carpet. First I used this tool to get most of it up, then came back with my vacuum cleaner and it looked decent enough.
My carpet is very old, so I am going to replace it anyway, but at least not it doesn't look terrible haha.
Final thoughts
All in all, I think the uproot clean pet hair remover tool is decent. It works well enough, but not like magic. I do think it is worth the $20 to $25 dollars. But, it doesn't work quite as well as they make it seem, at least not from my tests.
Check out the video review I did of this Uproot Clean pet fur removal tool.
Other articles you may like:
How to Make Pulled Pork in a Crock Pot