I have owned several blenders over the years and a couple of what I would call high-powered blenders. Finally, I took the plunge and splurged and pick myself up a Vitamix. I decided to go with the Vitamix e310 Explorian blender since the price was right and a good introduction to the Vitamix line of blenders.
My needs were simple, I wanted to make really good smoothies with my frozen fruit, I didn't want it to be lumpy or chunky or have a hard time performing basic smoothie-making tasks. This blender does that and much much more. I couldn't be happier with it.
Now let's dive into this Vitamix e310 blender and then you can decide if it is right for you or not.
***This is NOT a sponsored article. The blender I own was not given to me by Vitamix nor am I being paid by them to write this review. With that said the below link on where to buy it is an Affiliate link.
Vitamix the Company
Vitamix is an American company that has been around for nearly 100 years. They have been making amazing top-of-the-line blenders and other products that consumers can't seem to get enough of. The blenders are all made in the United States and are of very good quality.
The main competitors are Blentec, Ninja, Breville, and a few other brands.
Vitamix e310 Explorian Blender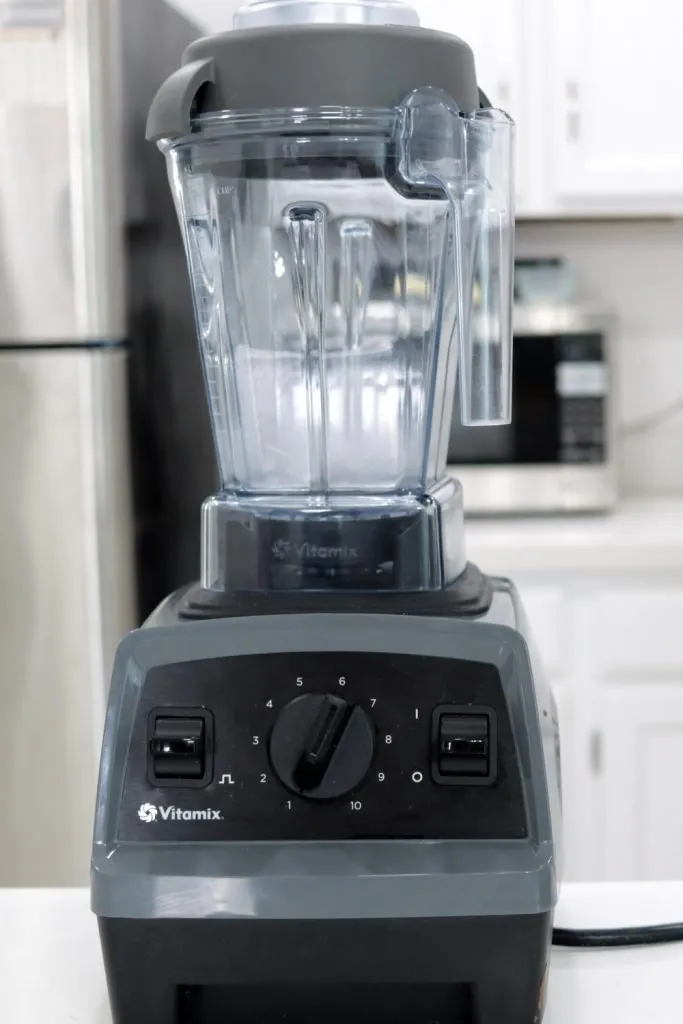 When I was deciding on a new blender to buy after my knock-off supposed competitor to the Vitamix died, after only a year, I decided to bite the bullet (not the Nutribullet) but the Vitamix bullet and splurge and get what has been the top-of-the-line brand in blenders for ages. I couldn't go wrong with a Vitamix.
There are several models to choose from at different price points ranging from $250 to over $700. After watching several reviews on YouTube and reading several articles I decided on the Vitamix e310 Explorian model. From what I read and saw this was the blender for me at a good price which was on the lower end of the price range.
After I clicked "buy" I eagerly anticipated the arrival of my new blender. It came with the blender, the 48-ounce container, a cookbook, and a tamper.
I like the size of the 48-oz container, but you can always buy a bigger container, or just buy a different model that has a bigger container. This size fits my needs perfectly.
The site boasts that its blenders can be used for several different functions, hot soups, flour and dough, nut butter, smoothies, juices, and much much more.
Testing my Vitamix e310 blender
I went to work using my Vitamix. I want to point out I used this blender nearly every day for about 4 months before writing this review and filming the review video which can be found further down in the article.
It turned wheatberries into whole wheat incredibly easily. The freshly ground wheat was extremely fine and powdery and perfect. I wrote an article called How to Grind Wheat Berries into Flour which you can read if you want to learn more about this experience.
Also along those lines, making homemade rice flour worked like a charm.
I made homemade peanut butter with it and was extremely impressed at how smooth and amazing the peanut butter turned out. Normally I would use my food processor for peanut butter, but even that didn't do as good a job as the Vitamix did.
If you want to learn how to make peanut butter with my blender check out this article How to Make Peanut Butter in A Blender.
And what I used it the most for was making smoothies.
I have made many many smoothies over the years in a variety of blenders. This blender is by far the best! It grinds up frozen berries with ease. Frozen strawberries, blueberries, raspberries, blackberries, and pineapple, all fall prey to this monster. The end result is a very "smooth" smoothie, haha. I couldn't be happier with the smoothie performance.
How to clean the Vitamix blender?
The blender is extremely easy to clean. You just fill it about halfway with hot water and add a drop or two or three of dish soap. Then turn it on for about 30 seconds. Then pour out the soapy water and rinse. Easy as that.
I always clean my blender right after making stuff in it, before I even eat the smoothie, etc.
Where do I buy the Vitamix e310 Blender? How much does it cost?
Right now as of this post, there is a summer sale going on and this blender is $50 off. Normally it sells for $349.95 but you can pick it up for $299.95.
It comes in three colors, black, red, and gray. I own the gray one. There is a standard 5-year warranty that comes with the purchase or you can get the extended warranty which adds 3 more years. If something happens during that time, they will replace it.
Purchase the Vitamix e310 Blender here.
To sum up, this blender is definitely my favorite blender I have ever owned, and super excited to finally be on the "Vitamix train."
Watch the video review I did here: