Jump to Recipe
I just love these homemade whoopie pies. These chocolate sandwich cookies are filled with a delicious cream cheese frosting and are soft and delicious.
Did you know this American baked product goes by these other names: Black moon, gob, black-and-white, bob, BFO or Big Fat Oreo? Growing up my sister used to make them and she called them homemade fat Oreos instead of whoopie pies.
One thing I really love about these is for this particular recipe you use a cake mix! These are very similar to the Red Velvet Whoopie Pies here on my website. They are super easy to make with just a handful of ingredients. If I can do it, you can do it. Let's get baking!
Step 1: Gather the ingredients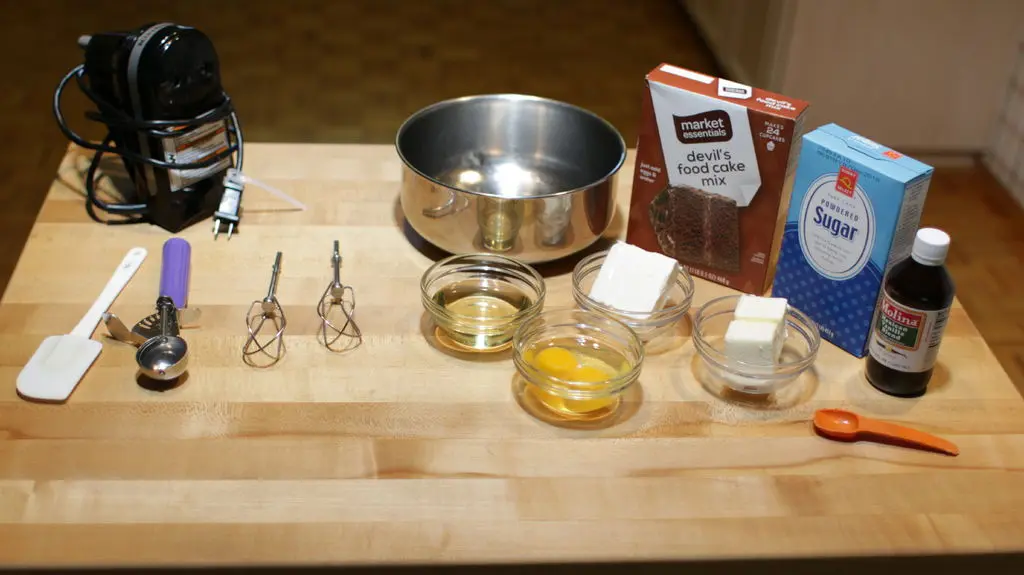 In order to make these amazing whoopie pies you need the following easy to find ingredients:
Devil's Food Cake Mix – Or you can use any chocolate cake mix. It doesn't have to be Devil's food. This is the kind I always use.
Cooking Oil – Vegetable, Olive, Canola, Coconut, etc.
2 Large eggs
Powdered Sugar – Also know as confectioner's sugar or icing sugar.
Butter – Use softened unsalted or salted butter. Just leave it out on the counter a few hours before making the cookies.
Cream Cheese – Used softened room temperature cream cheese, again just leave it out along with the butter.
Vanilla extract
Tools
Step 2: How to make whoopie pies at home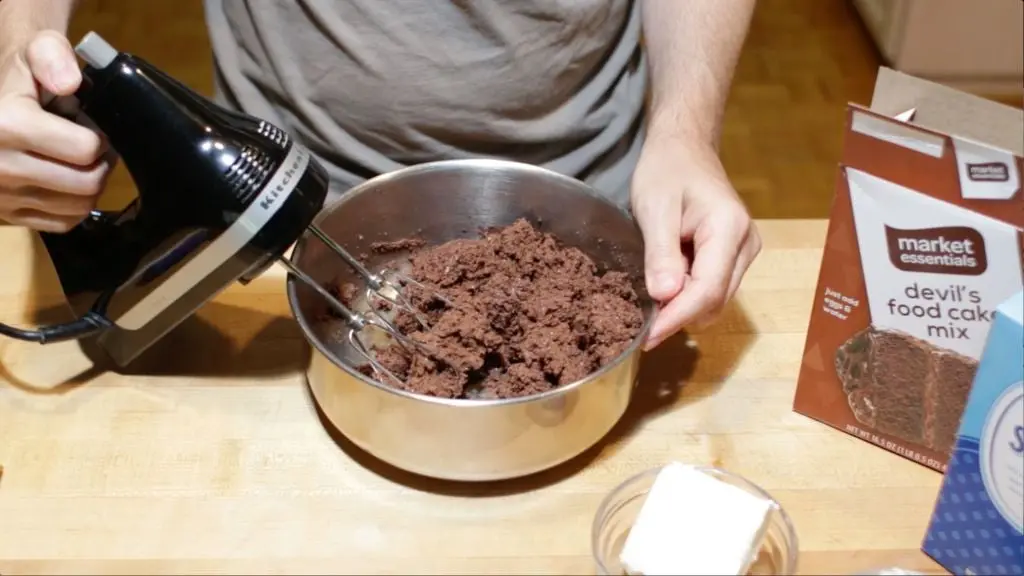 Preheat the oven to 350 F/176 C.
Begin by making the cookie dough. In a large bowl combine the eggs and the oil, regardless of what it says on the cake mix box, don't follow those instructions.
Now just pour in all of the cake mix and blend with a hand mixer or you can use a wooden spoon as well. It will form a nice thick dough. It will resemble brownie dough.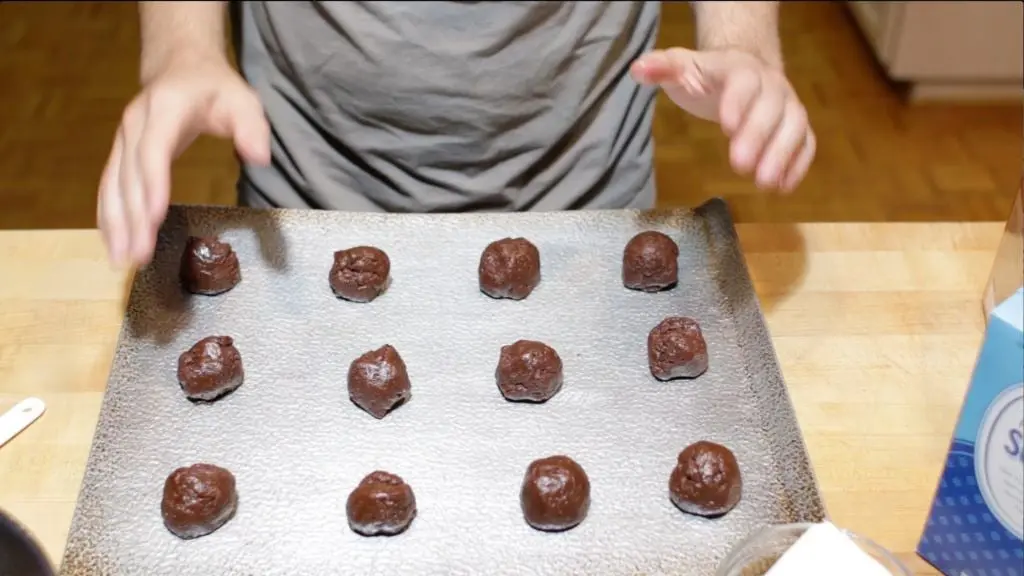 Now it is time to form the cookies. I like to use a small melon scoop or ice cream scoop to insure I make all the same sizes, but you can use a spoon as well. They should be the size of ping pong balls.
Make sure to wear gloves or wash your hands if you are going to be rolling the dough in you palms to make the balls.
Place the balls of whoopie pie cookie dough onto an ungreased cookie sheet. Make sure they are about 2 inches apart because they will spread. Only place 12 cookies per pan.
Step 3: Bake the whoopie pies cookies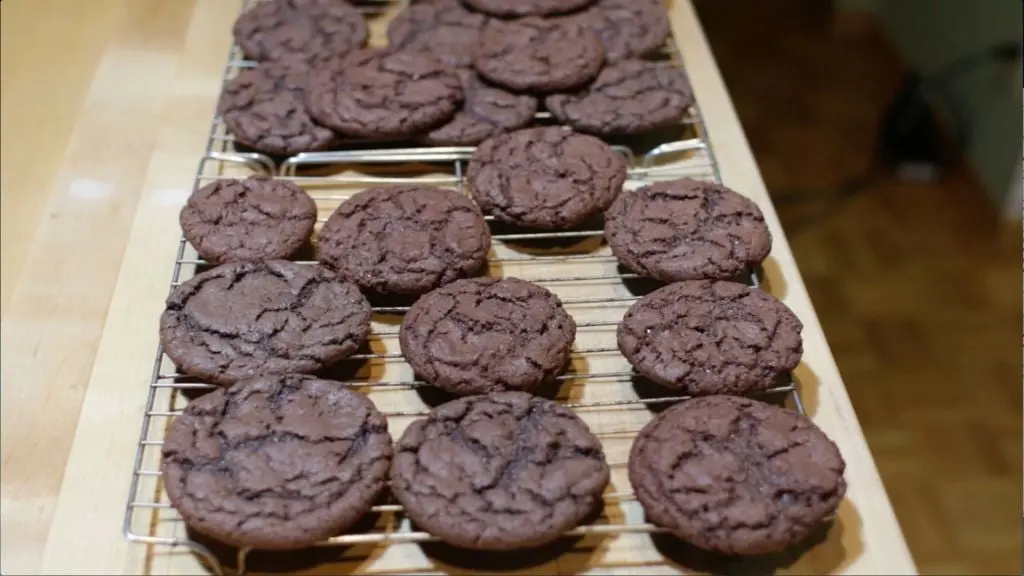 Bake the cookies in the oven, middle rack position, for 10 to 12 minutes, one pan at a time. If you want them soft only bake them for 10 minutes, if you want them more crunchy you can bake them for 12 minutes.
Once they come out of the oven allow them to cool for a few minutes before transferring them to wire racks to cool completely.
Step 4: Make the cream cheese frosting filling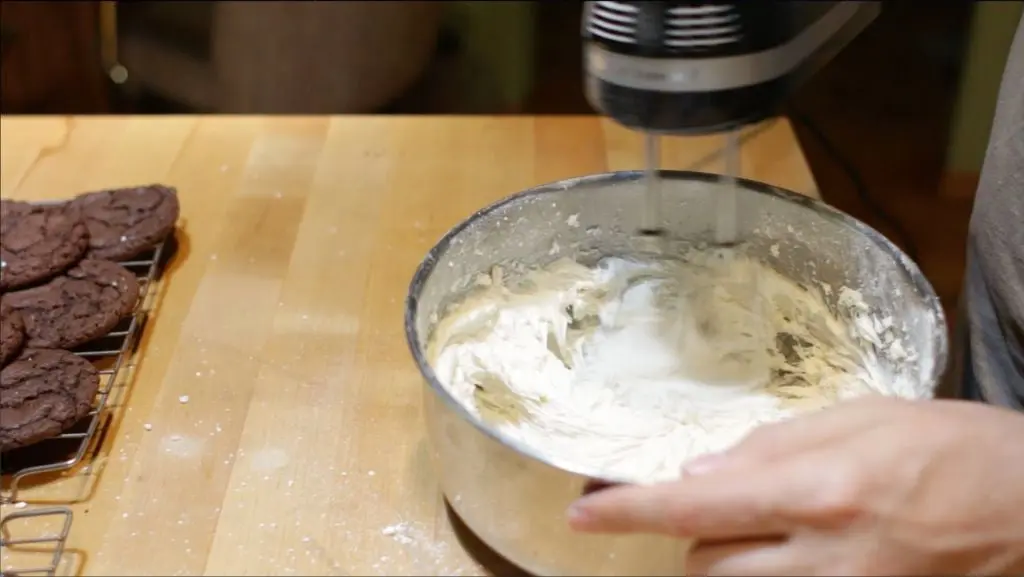 Now you can't have whoopie pies without some sort of filling to go in between the cookies. I really like using a yummy cream cheese and butter frosting.
Add the softened cream cheese, butter, and vanilla extract to a large bowl and blend until smooth. Then add in the powdered sugar and blend until combined. If you really want to bring out that cream cheese flavor add another 4 oz of cream cheese.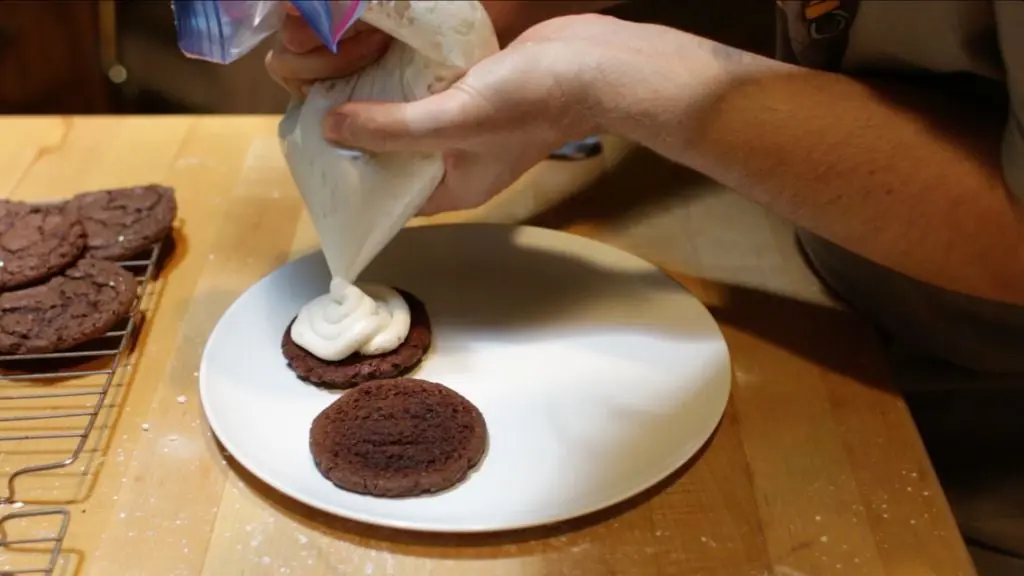 Now place the frosting in a large plastic bag or professional piping bag. Snip off the corner of the bag and twist the top, pushing the frosting to the corner.
Take two cookies that are about the same size, and turn them over. Then pipe enough frosting to almost cover the entire cookie. I usually go in a circular motion starting on the outside and going in towards the middle, but it really doesn't matter how you do it.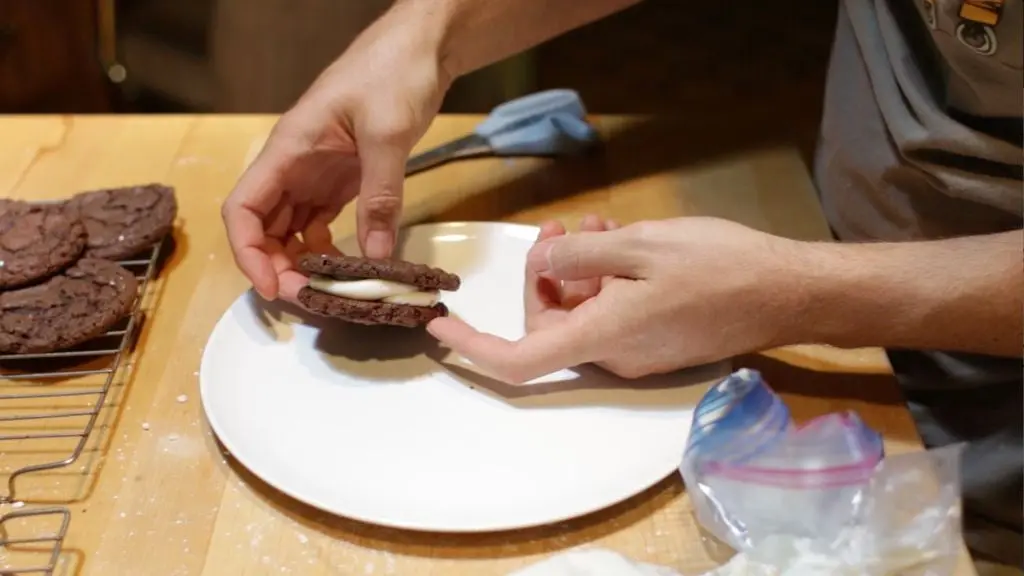 Then just place the other cookie on top, and there you have it homemade whoopie pies. Now just do that with the rest of them, you should be able to make about 12 whoopie pies from one cake mix.
Cover them with plastic wrap and place in the fridge until ready to serve them. Enjoy!
How long do whoopie pies last?
They will last about 10 days in the fridge if covered or placed in an airtight container. You can also freeze them for a few months.
Here are some other recipes you may like:
Whoopie Pies
If you love chocolate cake and you love cookies then these Whoopie pies are for you! They are super duper easy to make and filled with a yummy cream cheese frosting. If I can do it, you can do it!
Equipment
Hand Mixer or Stand Mixer

Bowls

Spatula

Spoon or cookie/melon scoop

cookie sheet
Ingredients
1

box of Devil's Food Cake Mix

468g

1/3

cup

of canola or vegetable oil

78ml

2

large eggs
Filling
1/2

cup

of unsalted softened butter

115g

4

oz

of softened cream cheese

can use 8 oz as well (115g)

1

lb

16oz or 453 g of Powdered Sugar

1

tsp.

of vanilla extract

5ml
Instructions
Preheat the oven to 350 F/176 C, with the rack in the middle position.

In a large bowl blend together the eggs and the oil. Then add in the cake mix and blend until all combined and thick cookie dough has formed.

Scoop out the dough with a small ice cream scoop or use spoons, and roll the cookie dough into a ball, about the size of a ping pong ball, and place them on an ungreased cookie sheet about 2 inches apart. You should be able to get about 12 on one normal-sized cookie sheet. And make a total of 24 of them.

Bake one pan at a time in the oven for 10 to 12 minutes. For softer cookies only bake them for about 10 minutes, for crunchier cookies bake them for 12 minutes. Once baked, removed them from the oven and allow them to cool for a few minutes on the pan, then remove them and place them on a wire rack to cool completely.

Make the filling by blending together the softened cream cheese, butter, and vanilla extract in a medium bowl. Then add in the powdered sugar and mix until combined and smooth.

Place the filling in a plastic bag, twist the top, and push the frosting to one corner. Snip the corner off with scissors. Then turn over a cookie and pipe on some frosting. Take another same-sized cookie and put it on top, finishing the whoopie pie. Do that with the rest of them.

You can serve them right away or enjoy them chilled. Cover them with plastic wrap or place them in an airtight container and keep them in the fridge until you want to serve them. They will last about 10 days in the fridge. You can also freeze them if you like. Enjoy!
Video
How to make Oreo "Style" Cookies | Easy Homemade Whoopie Pies Recipe
Notes
Nutrition
Do you like this recipe? Please give it a rating and comment down below, I really appreciate it. If you make it tag me on Instagram @inthekitchenwithmatt. Also, sign up for the newsletter so you won't miss out on any of my new posts and recipes.