Jump to Recipe
This is such an amazing and easy no-bake cheesecake. With this simple to make no-bake cheesecake recipe, you will be left with a refreshing, delicious, and creamy cheesecake that doesn't crack.
No need to turn on that oven, this delightful treat is perfect for the summer or any time of the year. Also there is no heavy cream or sour cream in this cheesecake. If you are a fan of cheesecake, you have got to try this incredible no-bake cheesecake. If I can do it, you can do it. Let's get started!
What is no-bake cheesecake?
First you may be wondering what a no-bake cheesecake is? Just as the name implies, it is cheesecake that you don't need to bake in the oven. No worrying about water baths or cracking on top, and there are no eggs in it either.
Sometimes traditional cheesecake can be fussy, but not this one. Also, the resulting texture is more light and smooth and refreshing. However, it doesn't set as firm as a classic cheesecake that is baked, closer to a pudding or key lime pie consistency.
Don't get me wrong I love traditional cheesecake as well as pumpkin cheesecake, but I also love how simple and quick it is to make a no-bake cheesecake.
Perfect no-bake graham cracker crust
Another thing that is incredible about this cheesecake is the crust. This no-bake graham cracker crust comes together in just a few minutes and stays together nice and firm and doesn't fall apart, even though it isn't baked.
And it is versatile, if you want to add some nuts in with the graham crackers, go for it! Maybe you want to change it up and use vanilla wafers or ginger snaps, do that. So awesome!
It all fits together in a nice 9-inch springform pan. Although you can get away with using a pie plate as well if you don't have a springform pan. Or maybe you want to make mini no-bake cheesecakes. You can certainly use a muffin pan as well.
Step 1: Gather the ingredients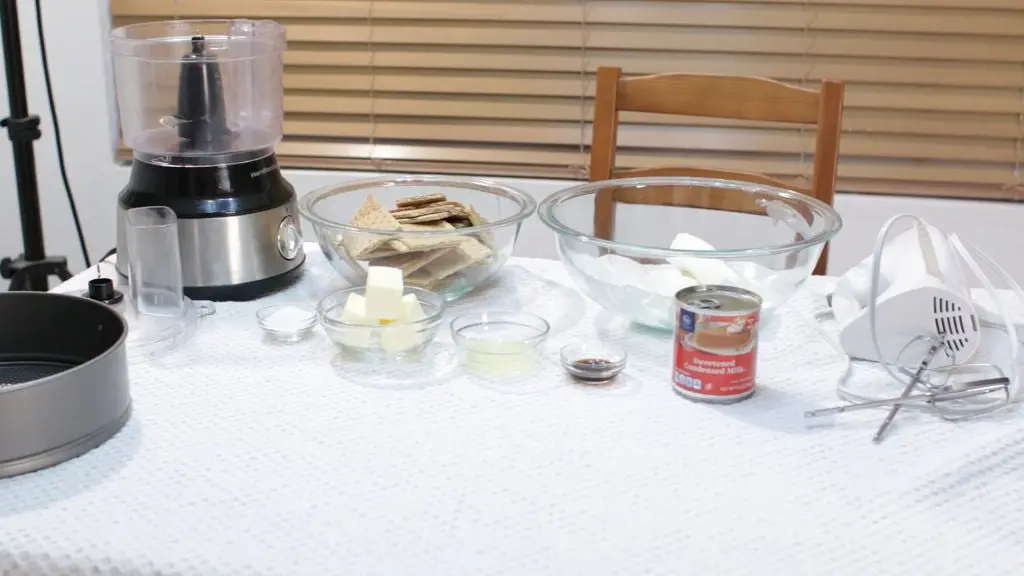 In order to make this easy no-bake cheesecake recipe you need just a handful of everyday easy to find ingredients:
Graham crackers – These are probably the most commonly used for cheesecake crusts, and it is my favorite, but other things like vanilla wafers, ginger snaps, and other types of cookies will work.
Butter – The butter is the tasty glue that holds the graham cracker crumbs together. I generally use unsalted butter, but salted will work great too.
Sugar – The sugar is optional, but I usually add it to the graham crackers to make the resulted crust a bit sweeter.
Cream cheese – Softened cream cheese is the main ingredient in cheesecake. You can't have cheesecake classic or no-bake without it.
Sweetened condensed milk – The sweetened condensed milk will add flavor and structure to the cheesecake and help it to set.
Lemon juice – The fresh lemon juice will add a nice tangy taste to the no-bake cheesecake.
Vanilla extract – The ultimate flavor enhancer. Technically you can leave this out, but I never do. I love vanilla extract!
Step 2: How to make no-bake cheesecake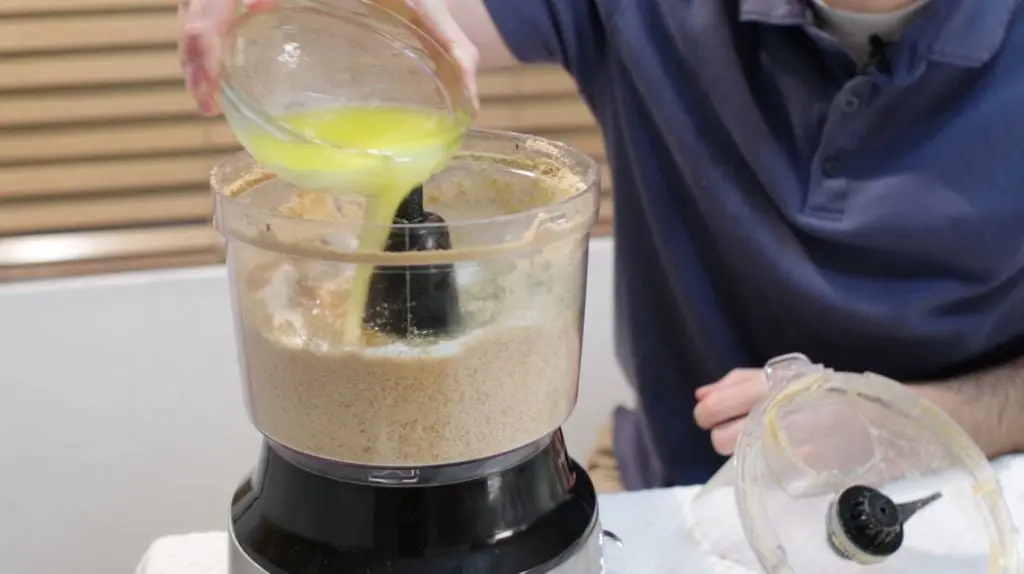 Begin by making the graham cracker crust. Add the graham crackers to a food processor and pulse until they turn into crumbs.
Melt the butter and add that to the crumbs as well as the white granulated sugar. You can leave the sugar out if you don't want the crust to be very sweet. Blend until the resulting mixture looks like damp sand.
Or and alternative method is you can add the graham crackers to a gallon size ziplock bag and smash them with a rolling pin. Add the melted butter and sugar and mix.
Step 3: No-bake cheesecake springform pan
The classic pan used for making cheesecakes is the springform pan. These pans are perfect because the tops come off of the cheesecake. However, you can use a pie pan or muffin pan too if you like.
This amount of crust will be too much for a standard pie plate, so maybe use a combination of a pie plate and then the leftovers in a muffin pan.
Add the crust mixture to the pan and press it down with clean hands firmly all around until level. You can also make sure it comes up the sides of the pan. Once done place it in the freezer for at least 10 minutes.
Step 4: No-bake cheesecake filling
Time to make the filling. I usually do this after the crust has been in the freezer for 10 minutes. Add the softened room temp cream cheese to a large bowl and blend it with a mixer. Use a spatula as needed to scrape the sides of the bowl and remove the cheese from the beaters.
If you forget to take the cream cheese out of the fridge about 2 hours before starting, you can soften it up in the microwave using the defrost mode.
Then add in the lemon juice, vanilla extract, and sweetened condensed milk. Blend until nice and smooth. just like that, the no-bake cheesecake filling is ready to go.
Step 5: Finish the no-bake cheesecake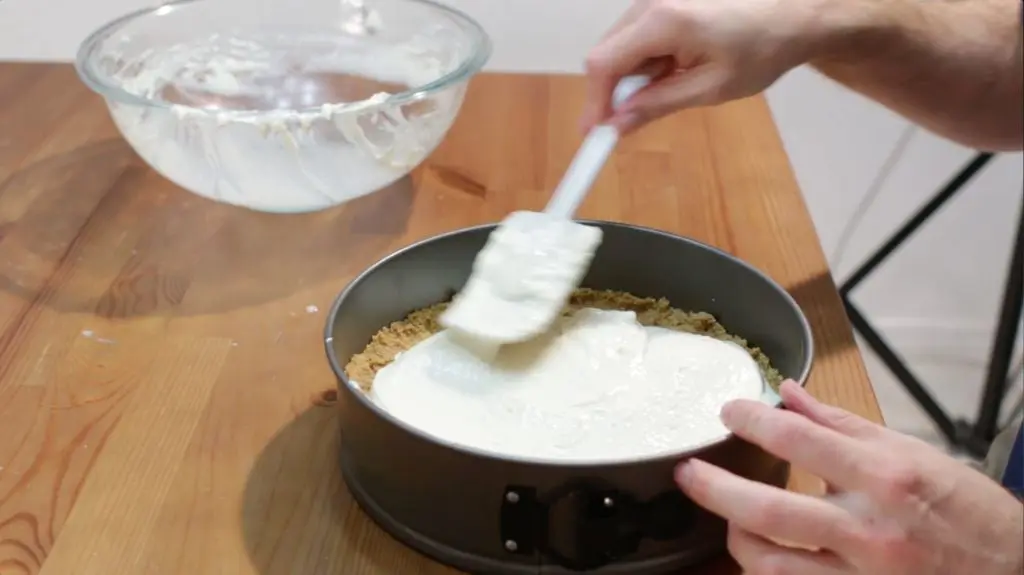 Pour the cheesecake filling into the spring form pan. Spread it out evenly with the spatula. Once done, cover it with plastic wrap tightly and place the cheesecake in the fridge to set for 3 to 4 hours.
Once the cheesecake has set you can dig in. Again, it won't be as firm as traditional baked cheesecake that has eggs in it, but it will still be amazing. Serve up a slice and top it with cherries, strawberries, blackberries, raspberries, etc. Enjoy!
How long does no-bake cheesecake last? Can I feeze it?
The cheesecake after it sets in the fridge will last a few days if stored in an airtight container in the fridge. After that you can freeze it for 2 to 3 months. But don't use the freezer until after it sets properly in the fridge. Then just thaw it out at room temp or in the fridge and serve.
Here are some other recipes you may like:
No-Bake Chocolate Raspberry Tart
No-Bake Cheesecake
This amazing no-bake cheesecake is perfect for people who want a simple dessert but don't want to turn on the oven. The whole thing comes together in under 20 minutes and then you just have to wait for it to set. If I can do it, you can do it!
Equipment
9 inch springform pan

Food Processor or large plastic bag and rolling pin

Spatula

Hand Mixer or Stand Mixer

spoon
Ingredients
18

sheets of graham crackers or 36 squares

279g

10

tbsp

of unsalted butter

140g

2

tbsp

of sugar (optional)

25g

16

oz

of softened cream cheese

room temp. (452g)

1

can

14 ounces of sweetened condensed milk (396g)

2

tbsp

of fresh lemon juice

30ml

1

tsp

of vanilla extract

5ml
Instructions
Begin by mixing up the graham crackers in a food processor until you have fine crumbs. Then melt the butter and add that in along with the sugar. The sugar is optional. Blend until you are left with a mixture that looks like damp sand.

Or you can smash up the graham crackers in a ziplock bag, and then add the butter and sugar to that and shake it.

Now pour the mixture into an ungreased springform pan, or use a pie plate or muffin pan with cups. Press and pack the crumbs firmly and evenly in the pan, making sure to go up the sides of the pan a bit as well. Use clean hands or wear gloves. Then place the crust in the freezer for at least 10 minutes.

In a large bowl add the softened room temp cream cheese. Make sure to take it out of the fridge a few hours before starting, or soften it in the microwave on defrost mode for about 45 seconds.

Mix the cream cheese with a stand or hand mixer until smooth. Then add the lemon juice, vanilla extract, and sweetened condensed milk. Blend again until smooth. The filling is ready to go.

Next, remove the crust from the freezer, then pour in the filling and spread it out evenly with a spatula. Cover the cheesecake and place it in the fridge and allow it to sit for at least 3 hours. It won't crack at all, so don't worry about that. It won't be as firm as traditional baked cheesecake, the filling consistency will be more like stiff pudding or key lime pie. It will be delicious, light, and refreshing.

Remove it from the fridge, serve up a slice topped with cherries, strawberries, or other fruit syrup, whipped cream, etc. Enjoy!
Video
How to Make Cheesecake - Easy No Bake Cheesecake Recipe
Notes
Note: This printable recipe differs slightly from the one in the video. Only for the crust, just a bit fewer graham crackers, and butter. 
Nutrition
Do you like the recipe? Please give it a rating and comment down below, I really appreciate it. If you make it tag me on Instagram @inthekitchenwithmatt. Also, sign up for the newsletter so you won't miss out on any of my new posts and recipes.