Are you tired of an unorganized pantry? Maybe you have bags of cereal, rice, flour, etc., scattered about and you want things a bit more neat and tidy? If so, you may be interested in this cereal container and dry food storage set by Palm Tree Chef.
In this article, I do a cereal container review of a premium quality food storage set. Also, I give my opinion on cereal containers in general and if I think they are worth it or not.
And if you happen to be interested in picking up this particular cereal container set, I share a link where you can buy it. Now, on to the review!
Premium Quality Cereal & Dry Food Storage Container Set by Palm Tree Chef Review
*Disclaimer: This is NOT a sponsored post. Palm Tree Chef has no idea I am writing this review, all views, opinions, etc. are my own.
Before I move on to the review of this particular cereal container set, I want to point out, I have not always been the tidiest or well-organized when it comes to my kitchen and pantry. Growing up we had a few specific containers, but mostly we just used the containers and bags that the products came in.
But I always liked going to homes and seeing an incredibly well-organized and super tidy pantry. That brings us to this cereal container review.
I have owned this cereal container set for nearly 3 years now, and I am just getting around to writing a review about them. Although, I did film the video review a few weeks after I got them.
First Impressions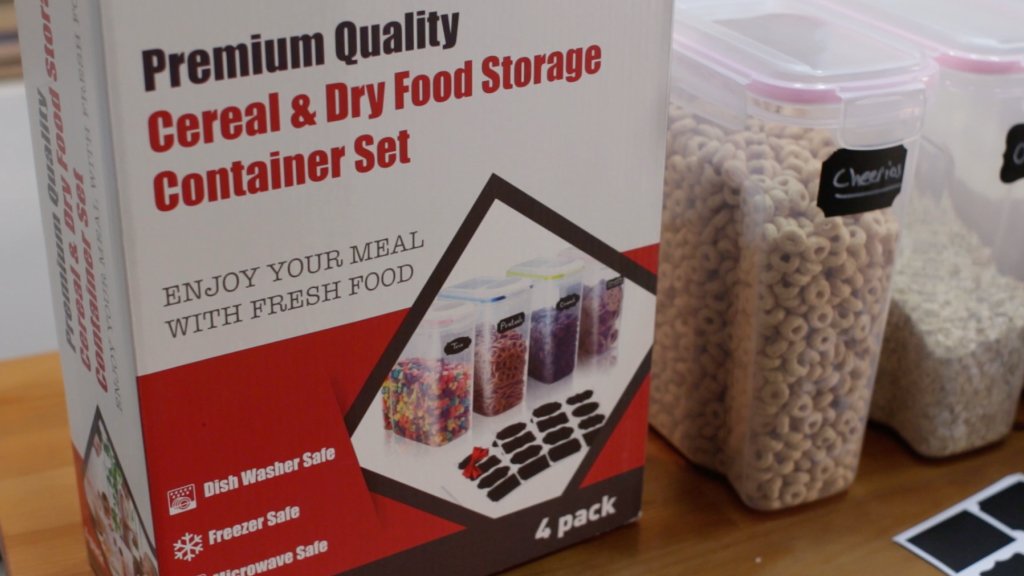 The first thing I remember noticing when I got this set, is the box they came in was great. It was visually appealing and gave all the important information. Things like being dishwasher safe, freezer safe, and microwave safe, were written right on the front.
There was a picture of the containers along with the accessories, which are dry-erasable stickers or labels, so you can label and relabel to your heart's content. More about that a little later.
How do these cereal containers look and function?
To me, they look really nice. They are a perfect size as well to hold a standard box of cereal or a container of oats. Some other ways I use it are to hold my flour, sugar, and rice, but they can also be used to hold drinks, etc.
Maybe you want to freeze leftover soup, etc.
These also take up less space as opposed to the big bags of cereal, rice, flour, which don't always store well. So instead of throwing one of those big bags on the shelf, you can fill a cereal container up with it. And then tuck away the bag of leftovers somewhere else.
Also, I want to mention these containers are:
FDA approved
Made with a high quality, non-toxic, BPA free plastic
Microwave safe
Dishwasher safe
Freezer safe
Each cereal container also has units of measure in both metric and standard US measurements. This is extremely helpful, especially if you are using it to hold punch, lemonade, etc.
Or if you need to measure large amounts of ingredients, like flour, sugar, water, etc., anything really where the standard measuring cups is too small.
The lid for each cereal container is very user-friendly. It has flaps that you lift up to remove the lid, and then when you put the lid on you snap them in place.
There is a freshness ring on the inside which creates a tight seal when the lid is fastened in place.
Also, the lid has a flap that you can open up, instead of taking the whole lid off. This allows you to pour the contents out very easily. I really like that function. It is fairly common among other cereal containers or food storage containers to have that feature.
The shape of the cereal container has a handle built right into it, instead of being perfectly rectangular, one side is shaped so it can easily be gripped.
Chalkboard Eraseable Labels
Another cool feature is this cereal container and food storage set comes with chalkboard-style labels that you can stick onto the container.
Then you can write a label for whatever ingredient or food item is in the box. Later after it is empty, you can wash it out, then put a different food item in the container. Just erase the label with a paper towel and re-label it. I really like this!
So there you have it, a little review of this cereal container and food storage set from Palm Tree Chef. I think they are definitely worth it if you are looking to tidy up that pantry. But if haphazard storage is your thing, then you rock it!
If you are interested in picking up this exact set you can find it here:
It may or may not be in stock, if that is the case, you can probably find something similar. While I really like this particular brand, there are plenty of good options out there.
Bottom line, I think this would make a great gift for a friend or family member for a birthday, Christmas, housewarming, etc. Or maybe you want it for yourself!
Want some awesome other pantry storage ideas? Check out this pantry organization article from my friend.
Cereal Container Review Video
Here are other articles and recipes you may like:
Cherimoya How to Eat It And What it Tastes Like
No-Bake Chocolate Oatmeal Cookies
Homemade Mozzarella Cheese with Only 2 Ingredients