Jump to Recipe
I have fond memories of growing up and eating delicious treats during the holidays. My mom made three amazing candies every year. We also had old-fashioned fudge, Almond Roca, and of course classic peanut brittle. I think my love of candy and treats came from my mom. Thanks, mom!
While we are on the topic of holidays, we always had this amazing homemade cinnamon raisin bread. Either she would make it, or I would make it. But this post is all about classic old-fashioned peanut brittle.
Peanut brittle is one of the most popular treats to have during the holidays. It is a quintessential holiday candy. And it is fairly easy to make too, if I can do it, you can do it. Let's get started!
Step 1: Gather the ingredients
In order to make classic old-fashioned peanut brittle you need just a handful of ingredients:
Sugar – Use normal white granulated sugar.
Corn syrup – Light corn syrup is the best to use. Glucose syrup will work as well. I haven't tried agave nector, brown rice syrup, or golden syrup, but those may work as well. The corn syrup helps prevent the sugar from crystalizing. Making a better nut brittle.
Water – I always use filtered water, because my tap water is gross.
Salt – It will enhance the flavor.
Peanuts – Raw peanuts are the best to use, but those can be hard to find, so dry roasted peanuts can always be used.
Butter – This will add flavor! Use salted or unsalted butter.
Baking soda – The baking soda makes the brittle lighter and more airy it is a key ingredient in peanut brittle. Don't leave it out, and don't use baking powder.
Vanilla extract – This adds flavor.
Tools
Large pot
Silicone spatula or wooden spoon
Forks
Sheet pan
Cooking spray, shortening, or butter, or parchment paper
Step 2: How to make homemade peanut brittle
First, measure out all your ingredients. You want to have them handy and ready to go. Otherwise, you will waste time trying to measure, and your peanut brittle might burn in the process.
Prepare a sheet pan by either buttering it, spraying it with cooking spray, or laying down a sheet of parchment paper. You can also use a cookie sheet as well.
Add a medium or heavy bottom pot to the stovetop burner. Set the heat to medium. Do not be tempted to set the heat higher than that.
Add the sugar, salt, and corn syrup to the pot.
NOTE: If you are using raw peanuts at those at this time as well. Dry roasted peanuts will be added later.
Stir the sugar and corn syrup occasionally until the temp starts to boil and reaches around 250 F/121 C. If sugar crystals are stuck to the side of the pot, use a basting brush dipped in warm water and brush the sugar down.
NOTE: It is essential that you use some sort of candy thermometer or even a meat thermometer will work.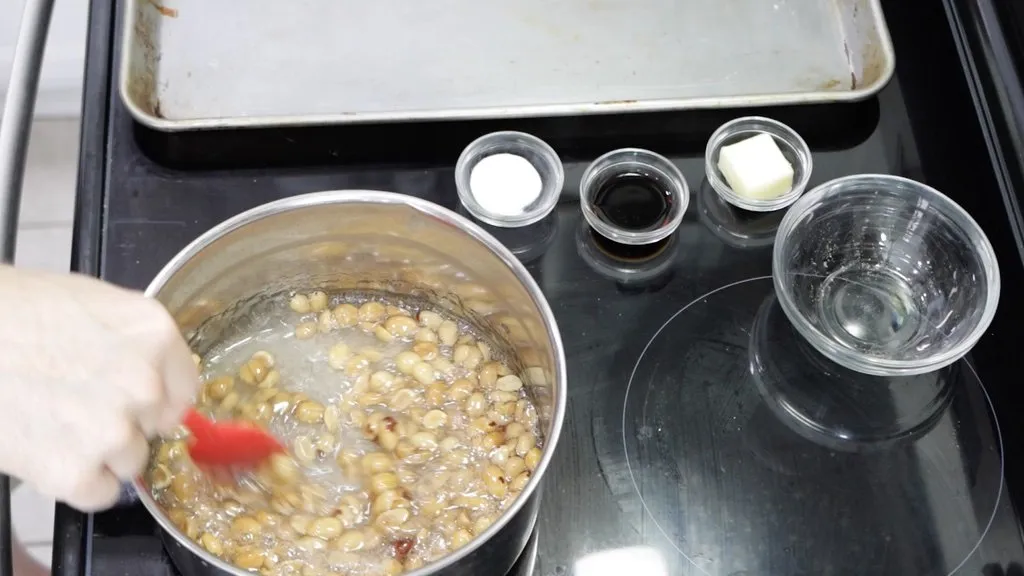 Once it reaches that temperature, add the dry roasted peanuts and stir constantly the remaining time. If you don't stir constantly the candy will burn.
It will take about 20 minutes total cooking time from start to finish. Keep stirring and heating until the candy reaches the hard crack stage (300 to 310F/148 to 154C)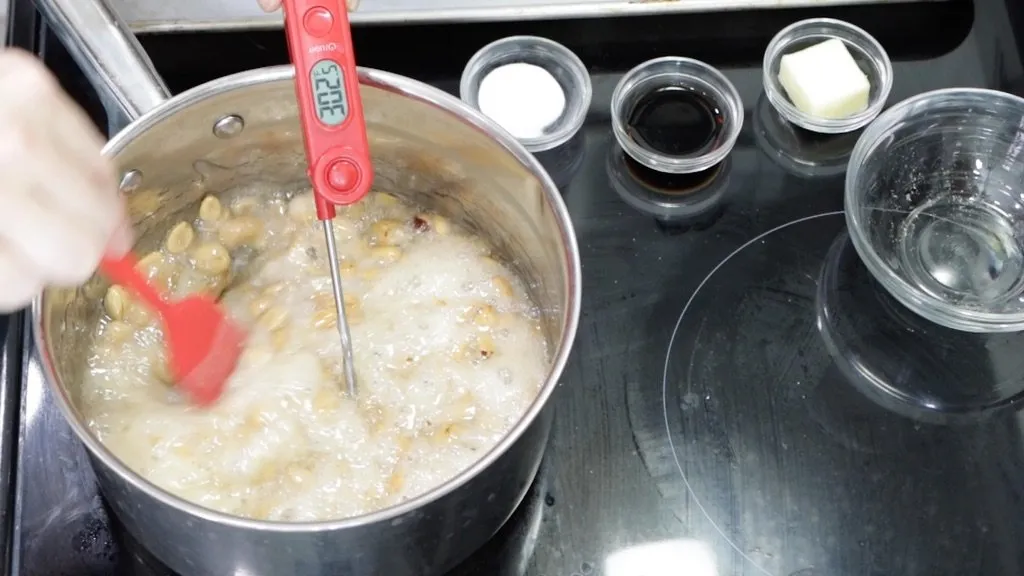 Step 3: Finish the classic peanut brittle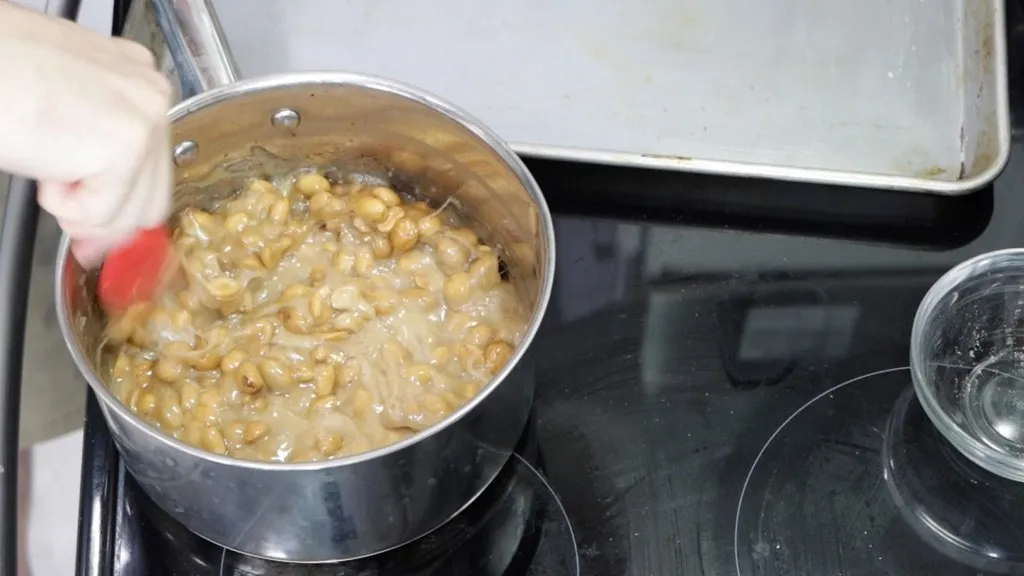 Once the peanut brittle gets to between 300 F and 310 F remove it from the heat and turn the heat off. Quickly add the butter, baking soda, and vanilla extract. It will bubble up on you most likely. This will change the texture a bit and give it that classic peanut brittle texture and taste.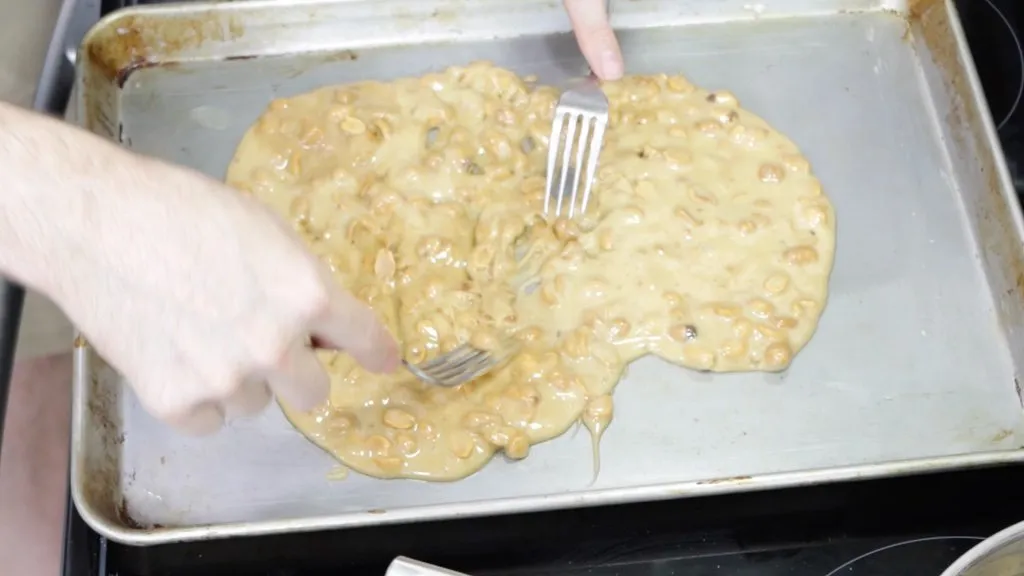 Once completely mixed in, pour it out onto your prepared sheet pan or cooking sheet. Use forks to spread it apart making the candy thinner. Also, this allows you to even out the peanuts.
Allow the fresh homemade peanut brittle time to cool completely. At least 30 minutes.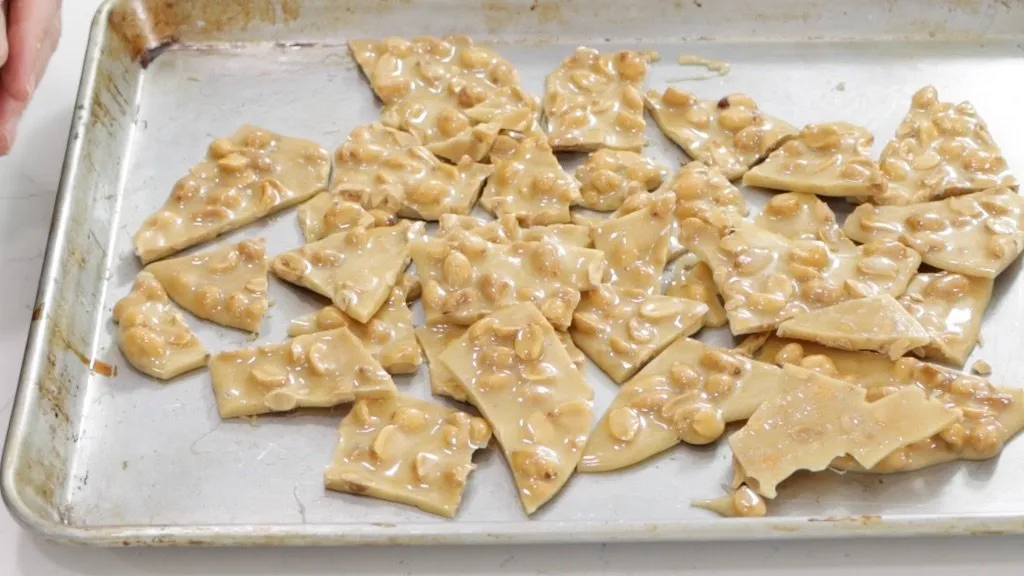 Now you can break the peanut brittle apart into smaller pieces and serve it. You can place pieces in small mason jars or other containers and give them as gifts if you like. They make great gifts.
Enjoy your homemade peanut brittle!
How long does homemade peanut brittle last?
If stored in an airtight container it will last 4 to 6 weeks. But I doubt it will go past a week, haha. Do not store it in the fridge.
Here are other holiday recipes you may enjoy:
Peanut Brittle
This homemade classic peanut brittle recipe is perfect for the holidays! I bet you can't eat just one piece, haha. Well, I know I can't.
Equipment
Candy Thermometer

Large Pot

Silicone spatula or wooden spoon

Forks

sheet pan

Cooking spray, shortening, or butter, or parchment paper
Ingredients
1

cup

white granulated sugar

200g

1/2

cup

light corn syrup

160g

1/4

cup

water

60ml

1/8

tsp

salt

1

cup

dry roasted or raw peanuts

150g

1

Tbsp

of butter

salted or unsalted (15g)

3/4

tsp

of baking soda

3g

1

tsp

of vanilla extract

5ml
Instructions
Butter a baking sheet or cookie sheet or line it with parchment paper.

Measure out all of the ingredients and have them ready to go.

Place a medium to large heavy bottom pot on the burner and set the heat to medium.

Add the water, sugar, corn syrup, and salt to the pot. If you are using raw peanuts add them now. Stir and combine.

Heat the mixture to 250 F/121 C. Stir occasionally. Wipe down any sugar crystals if they form on the sides of the pot with a damp basting brush.

Once the sugar mixture reaches 250F add the dry roasted peanuts if using those. Stir constantly until the brittle reaches 300F to 310F (148 to 154 C)

Remove from heat and quickly add the vanilla, butter, and baking soda. It will most likely bubble up on you, this is natural. Stir really well until combined. Be careful! The candy is hot.

Pour peanut brittle onto the prepared baking sheet. Spread it out with forks to make it thinner and to even out the peanuts, if desired.

Allow peanut brittle to cool completely, about 30 minutes. Then break it apart and serve.
Video
How to Make Peanut Brittle | Classic Homemade Peanut Brittle Recipe
Notes
Store in an air-tight container at room temperature. It should last 4 to 6 weeks. 
Nutrition
Do you like the recipe? Please give it a rating and comment down below, I really appreciate it. If you make it tag me on Instagram @inthekitchenwithmatt. Also, sign up for the newsletter so you won't miss out on any of my new posts and recipes.
Check out my other website 101 Creative Dates for fun date ideas. Food and dating go hand in hand!