Jump to Recipe
I just love these easy buttermilk biscuits. They are super soft, flaky, buttery, and oh-so-delicious. You can have them slathered with butter and honey, jam, jelly, or marmalade, or serve them with some gravy. Or maybe put some cheese, eggs, and bacon in the middle for a yummy buttermilk biscuit breakfast sandwich.
Growing up we had homemade buttermilk biscuits a lot. I can see why they are so simple to make and the ingredients are cheap.
I just want to point out these are classic American biscuits, not to be confused with scones in the United Kingdom. They do look very similar, however. Our scones are different here in the States like this blueberry scones recipe.
Making buttermilk biscuits from scratch at home is so simple and all you need are a handful of readily available ingredients. Most of which you probably already have on hand.
You can do everything entirely by hand and burn a few extract calories doing it, or you can make it easier on yourself and use a food processor. It is totally up to you!
Once you master these easy buttermilk biscuits you will never buy readymade storebought biscuits again. They are that good!
If I can do it, you can do it. Let's get baking!
Ingredients for homemade buttermilk biscuits
All you need are six simple ingredients to make these delightful American biscuits:
Butter – I always use unsalted butter, but you can use salted butter, just reduce the amount of added salt in half. Make sure the butter is cold! The cold butter helps the biscuits be flakier.
Flour – Use all-purpose flour. I don't recommend using self-rising flour with this recipe.
Baking powder – One of the main rising agents.
Baking soda – The other rising agent. If you don't have baking soda, you can use more baking powder.
Salt – The salt will balance out the flavor and enhance the flavor of the other ingredients. Use regular table salt.
Buttermilk – The star of this dish. It gives these biscuits that classic unique flavor as well as making them tender. It also reacts with the baking soda helping the biscuits rise taller. If you don't have buttermilk you can make your own by following this homemade buttermilk recipe.
Equipment/Tools
You will need the following:
Pastry blender or food processor
Bowls
Spatula or wooden spoon
Rolling pin
Biscuit cutter either the 2 3/4 inch one or the 3 inch one.
Cast iron skillet which is recommended or a normal baking pan, cookie sheet, or sheet pan.
How to make buttermilk biscuits from scratch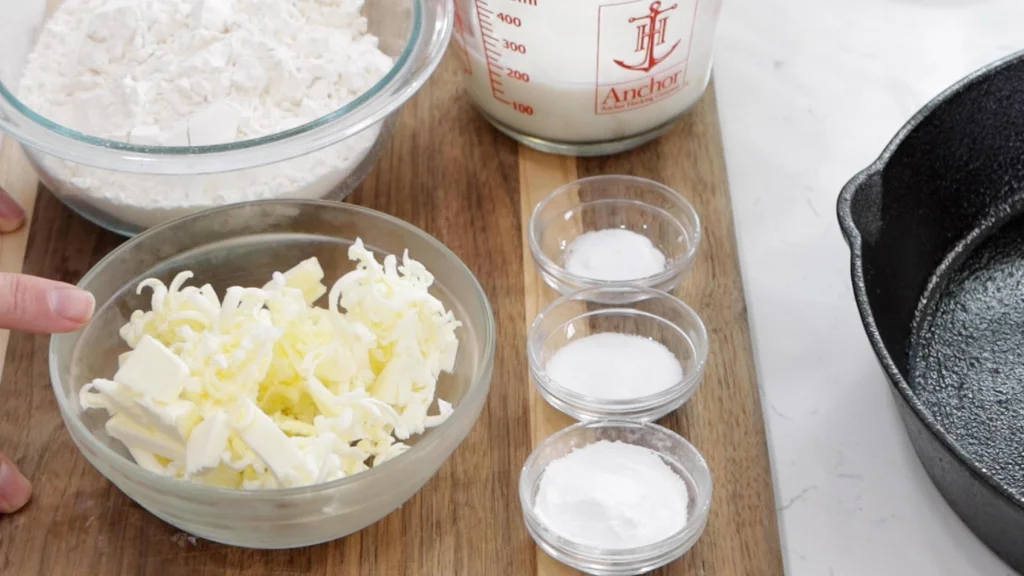 The trick to getting really nice flaky buttermilk biscuits is using really cold butter and really cold buttermilk. You can even put your dry ingredients in the freezer for 10 minutes as well before starting to make sure they are cold.
Preheat the oven to 425F/218C.
Now there are a few methods you can use with the butter. I like to freeze the butter beforehand and then shred it with my cheese grater. Or you can just cut it into small cubes.
If you want the process to go really fast use a food processor otherwise you can easily do everything by hand as well.
Whisk together the flour, salt, baking powder, and baking soda. Not really necessary if you are using a food processor, and sometimes I don't even worry about it when doing it all by hand.
Place the cold butter into a large bowl then pour the dry ingredients on top. Use a pastry blender and blend the butter in with the dry ingredients. This process takes a little while and you burn a few calories doing it.
Alternatively, just throw those ingredients into a food processor and blend until incorporated. Another method you can try is using clean hands or wearing gloves and mixing with your hands. A fork works really well too.
When you are done the dry ingredients will look off-white or very pale yellow.
Add the buttermilk and finish the biscuit dough
Once the butter is incorporated create a well in the middle of the bowl with your fingers. Then pour the cold buttermilk into that little well.
Use a spatula or wooden spoon to mix the buttermilk with the other ingredients.
You will be left with a nice tacky crumbly dough. Use your hands to knead the dough a little in the bowl and press it all together. It will stick together just fine.
Press and shape the dough into a rectangle don't use a rolling pin at this point. Now fold it into thirds turn it a quarter turn and repeat. Do this 2 more times.
This will help create flaky layers and is similar to the "lamination" process used to make puff pastry and croissants. Although there are some major differences between those.
Now the easy buttermilk biscuits dough is ready.
How to bake American biscuits
Roll the dough out into roughly a rectangle that is about 1/2 inch thick. Don't make it any thinner than that.
Take a biscuit cutter and press it straight down, then pull it up. Don't twist it. Grab the round biscuit and place it in a seasoned cast iron skillet.
Or if you don't have a cast iron skillet you can use a regular baking pan, cookie sheet, or sheet pan.
Grab the leftover scraps and knead them together roll them out and cut out more biscuits. This should make 8 to 10 medium biscuits.
Baste the tops of the biscuits with buttermilk.
Then bake at 425F/218C for 15 to 20 minutes until nice and golden brown on the top.
Remove them from the oven and baste the tops with some butter. After a few minutes take them out of the pan and place them on a wire rack to cool the rest of the way.
Time to serve those easy homemade buttermilk biscuits. You can use them for biscuits and gravy. You can cut them in half and spread butter and drizzle honey or spread jam or jelly on them.
Maybe you can cook up some eggs and make eggs, bacon, cheese, and biscuits. Eat them however you want!
Enjoy!
How long do homemade biscuits last?
They will last about 2 days if stored in an airtight container or ziplock bag at room temperature. After that, they should be stored in the fridge where they will last for about a week. For long-term storage, you can freeze them where they will last about 3 months. Wrap them individually with plastic wrap then place them in a freezer bag, this will help prevent any freezer burn.
Baking Tips
Again make sure the butter and buttermilk are cold. If needed you can keep them in the fridge until ready to use. If they get too warm, place them in the freezer for 10 to 15 minutes before using them. You may even store the dry ingredients once whisked together in the freezer for 10 to 15 minutes as well. Cold equals flakier biscuits!
A Cast iron skillet is my go-to pan for these, but don't fret if you don't have one. Just use whatever baking pan you have.
What is the difference between British Scones and American Biscuits?
While these two are "quick bread" and are similar looking and do share the same ancestry they do have distinct differences. And if you were to eat them side by side you would easily be able to tell the difference. But honestly, you can call them whatever you want.
Both include flour, baking powder, salt, butter, and some type of milk. British scones, originally from Scotland, usually include sugar American biscuits do not. American biscuits normally include buttermilk. The rations of each ingredient are different as well creating a different distinct texture for each.
The texture of each is probably the main difference. Biscuits are tender, flaky, and buttery. British scones are drier, crumblier, denser, and crunchier. Biscuits have more butter in them compared to scones and scones have heavy ingredients like cream.
British scones often have raisins, currants, cheese, and dates in them.
Even though they may look similar they are indeed different, but they are both delicious!
Here are other recipes you may like:
Oatmeal Pancakes
Tater Tot Breakfast Casserole
Air Fryer Bacon and Egg Toast
Cinnamon French Toast Sticks
Braided Puff Pastry
Easy Buttermilk Biscuits
These homemade buttermilk biscuits are easy to make and turn out flaky, tender, and buttery. If you love biscuits, give this recipe a try!
Equipment
Food processor or Pastry blender

Bowl

Spatula

rolling pin

Biscuit cutter (2 3/4 inch or use the 3 inch one)

Cast Iron skillet or baking pan or sheet pan
Ingredients
6

Tbsp

of cold butter

85g

2

cups

of all-purpose flour

240g

1

Tbsp

of baking powder

13g

1/4

tsp

of baking soda

1g

1

tsp

of salt

5g

3/4

cup

of cold buttermilk

177 ml
Instructions
Preheat oven to 425F/218C

Whisk together the flour, salt, baking powder, and baking soda.

Shred frozen butter with a cheese grater, or just cut the cold butter into small chunks.

Add the butter to a large bowl then add the dry ingredients. Mix with a pastry blender until it is all incorporated and the color of the flour changes from white to off-white or very pale yellow. There should not be any chunks of butter left.

Create a little well in the middle of the bowl and pour the cold buttermilk into it. Then mix with a sturdy spatula or wooden spoon until a dough forms.

Knead the dough in the bowl for a few seconds so it comes together.

Place dough on a floured surface and press it with your hands into a rectangle. Fold the dough into thirds and turn it a quarter turn and then repeat folding into thirds and pressing. Do this 2 more times to create flaky layers.

Roll dough with a rolling pin into a rectangle that is about 6 inches wide and 1/2 inch thick and about 8 inches long. It doesn't have to be exact.

Press a biscuit cutter straight down and then lift, don't twist. Remove the biscuit and place it in a cast iron skillet or on a sheet pan or cookie sheet.

Smash the scraps of dough together and knead, then roll and cut out more biscuits.

Baste the tops of the biscuits with buttermilk. Then bake on the middle rack for 15 to 20 minutes until nice and golden brown on top.

Baste the baked biscuits with butter, then remove and place on a wire rack to cool. Don't touch the hot cast iron skillet.

Serve with butter, honey, jelly, etc. However, you want to eat them! Enjoy!
Video
How to Make Buttermilk Biscuits | Classic American Buttermilk Biscuits Recipe
Notes
TIP: A food processor works really well if you would like to use that, and it is fast!
Nutrition
Do you like the easy shortbread cookies recipe? Please give it a rating and comment down below, I really appreciate it. Save the Pin to Pinterest! If you make it tag me on Instagram @inthekitchenwithmatt. Also, sign up for the newsletter so you won't miss out on any of my new posts and recipes.
Check out my other website 101 Creative Dates for fun date ideas. Food and dating go hand in hand!